Towards the end of April 2013, the Associated Press Twitter account was hacked, and a fake tweet was posted announcing an explosion at the White House. This apparently credible breaking news from a major news agency sent markets into freefall, wiping $136.5bn off the S&P 500 and 150 points off the Dow Jones almost immediately. When the hoax was revealed on Twitter shortly afterwards, the market bounced right back, probably making a few people very rich in the process.
This only goes to show the phenomenal influence that social media now wields over the financial markets. Social media is now critical for trading and investing, and any professional trader will have a Twitter feed open in parallel with Bloomberg Platform and other financial and trading tools and websites.
The Forex industry has been one of the key innovators in adopting social media and especially Twitter. Twitter is now critical for Forex Traders, who find themselves having to keep in mind the importance of the the real time power of the Twitter feeds and the most influential players in the financial and trading arena when trading. All major world organisations such as The World Bank, stock exchanges, financial indicator firms, banks and brokers are now active on Twitter. Moreover, they are harnessing the power of getting information and data faster and engaging with peers to get the data ASAP.
In the first of a new series of Forex Think Social Media Media articles we aim to discuss the most influential personalities in the Forex trading social media arena. We have featured those that we consider to be the most influential forex voices on Twitter in terms of their thought leadership, real reach and influence close to the markets and other traders. In each article, we shall be looking at five influential personalities that every forex trader should be following and engaging with.
In the first instalment, we chose global financial and forex personalities that have been quite active in the 140 character silicon revolutionary player that has been disrupting the way we consume information special in the capital markets arena, and especially close to the innovative and fast changing forex trading industry. The criteria was their reach, influence, number of followers and especially their real reach to the industry and markets.
Having said that, the choice presented here is subjective and was arrived at by a collaboration between the Forex Think team of editors and several industry specialists. Here are our five first Forex Twitter influencers:
Nouriel Roubini (@nouriel) – 240,295 followers
Klout Score: 73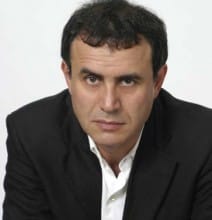 Nouriel Roubini is without a doubt one of the most influential economists in the world, having worked as an economic advisor in the Clinton and Obama administrations and co-authored the best-selling book 'Crisis Economics'. He has been described as a 'sage' by Fortune magazine, and was #4 in Foreign Policy magazine's list of the top 100 global thinkers. Having earned the nickname 'Dr. Doom' for his relentlessly bearish forecasts, he is probably best known for correctly predicting the current economic crisis and the problems in the Eurozone. At the time, he was heavily criticized for what people perceived to be over-pessimistic doom-mongering. Now, when he talks, everybody in the world listens, and if you're trading currencies, you can't afford not to.
Stefan Stredak (@fxstefan) – 384,769 followers
Klout Score: 55
With a staggering follower count of over 380,000, German forex trader Stefan Stredak seems to be a very popular fellow. Strangely, for such a popular Twitter user, he doesn't have a blog, a column, or anything of that ilk to promote – his Twitter account is the main event, and it's followed by almost everyone with an interest in the currency markets. Having worked as an aeronautical engineer all his adult life, his love of mathematics is what initially drew him to forex trading. In the six years since, he has gone on to become a highly successful trader, travelling around the world while trading and tweeting on his laptop.
Jim Rickards (@JamesGRickards) – 26,537 followers
Klout Score: 80
Rickards is a merchant banker and author, having penned the highly influential 'Currency Wars: The Making of the Next Global Crisis'. On Twitter, he comes across as something of a loveable grump, with a pointed dislike of major financial institutions. Rickards is somebody that has the insight to see beyond the headlines, and dig further in search of the real story, which has made his something of a cult favourite among currency traders. Even if you disagree with his views, he's never anything less than compelling.
Kevin Davey (@kjtrading) – 16,526 followers
Klout Score: 43
Although most traders would describe themselves as competitive, comparatively few actually enter formal trading competitions, such as the World Cup of Futures. Kevin Davey is one of them – actually, he's won the aforementioned competition on more than one occasion. Through his website and his social media presence, Kevin Davey has become something of a guru for online forex and futures traders, with regular posts about his recent thoughts and discoveries.
Marc Walton (@marcwalton) – 29,827 followers
Klout Score: 47
Marc started trading around eight years ago, when he was still working a 70-hour week as the MD/CEO of a British food company. After four years and plenty of mistakes, he started making enough money from trading forex to quit his job and move out to the Canary Islands. His tweets are mainly of an educational nature, mostly linking back to how-to articles on his website, although he does also use Twitter as a platform to air his views on currency-related topics.
Other articles in this series:
Top Twitter Forex Influencers Part 2- Journalists
Top Twitter Forex Influencers Part 3 – Journalists (continued)
Top Twitter Forex Influencers Part 4 – Journalists (continued)
Top Twitter Forex Influencers Part 5 – Journalists (continued)