Global stockmarkets fell yesterday, driving investors into the arms of the Japanese yen, which has long been considered a 'safe haven' for value in times od falling markets. This marked a reversal of the recent strong downtrend for the Japanese currency, which has been kept artificially low by prime minister Shinzo Abe's controversial stimulus programme.
The dollar index, which measures the US currency against a basket of global currencies, fell along with the markets, but this may be arrested soon by the increased likelihood that the Fed will begin tapering its own stimulus package. This expectation has been prompted by the release of a strong ISM factory report on Monday, and better-than-expected figures in the upcoming U.S. nonfarm payroll report (due on Friday) could push it further in the upwards direction.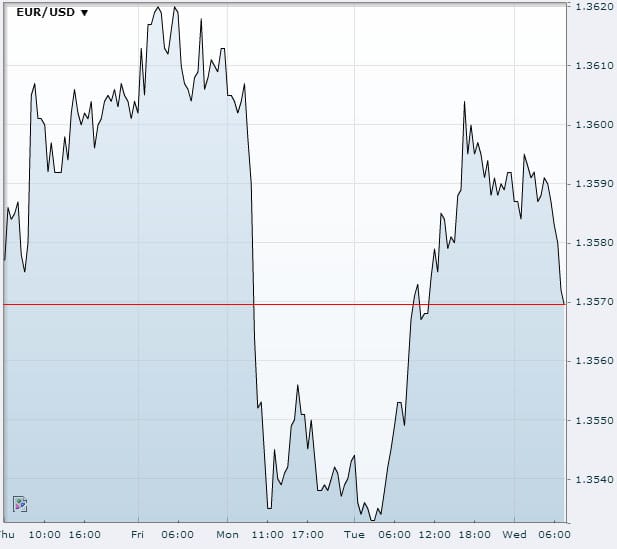 The dollar fell by 0.6% percent to 102.30 yen after reaching 103.37 yen in Asian trading, close to the 2013 high of 103.73 yen, a level targeted by dollar bulls such as Joe Manimbo, senior market analyst at Western Union Business Solutions in Washington.
"The yen caught a reprieve from extreme selling as a solid coat of red across global bourses spurred a round of safe-haven interest," he said in a note to investors.
"Sentiment, though, remained decidedly bearish on the view that the Bank of Japan will press ahead, and maybe extend, its current pace of support to the world's No. 3 economy."
This market activity brought about trading volumes of dollar/yen that were almost double the average for the past month. The dollar is up 18 percent against the yen this year, rising strongly over the past month on expectations that the Fed would soon scale back its bond-buying program while Japanese monetary policy remained loose.
The Bank of Japan's commitment to easy monetary policy has increased demand for the yen as a tool for investing higher-yielding assets in what is known as the 'Carry Trade'. Short positions on the yen are at their highest since 2007, according to CFTC data.
"There are certainly signs that short positioning is becoming more stretched at current levels, while our short-term valuation model is signaling the yen is becoming more undervalued," said Lee Hardman, currency economist at BTMU, talking to Reuters.
"The key is the payrolls report on Friday," Hardman said. "If it's another strong report, then it could push dollar/yen
higher."