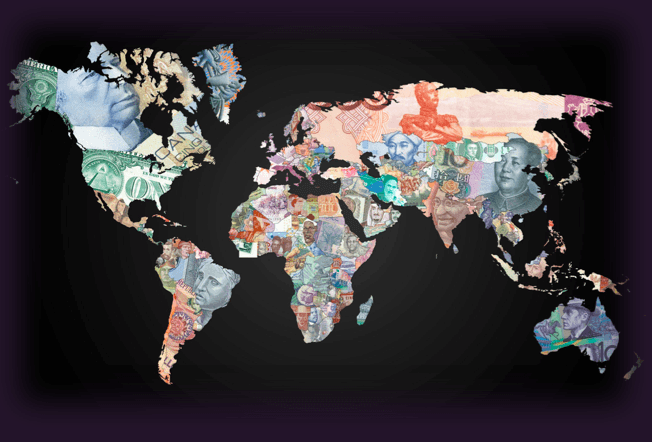 You could see that Ross has four open trades at the bottom of the screen. All four of those trades actually were holdovers from last week. We entered all of those late last week and held them over the weekend. Most of them, if not all of them, now are at break even on their stop losses, if not a little bit better on a couple of them. So, profit being made on all four of those held over from last week. We'll continue to manage the profit on those trades as we go through the rest of the day today and through this week.
#USDCHF take a look at last week and again, this is the daily timeframe. But if you take a look at last week, we really didn't see an extraordinary amount of market movement. It basically just waffled around that pink-shaded area at the top right-hand corner of the screen. 1.0020 to 1.0055 is that pink-shaded area. We saw an attempt to break underneath it late last week. We've seen a couple of challenges above it over the past week, and nothing really broken outside that pink-shaded area.
We really just need a clear single candle body breakout of this to the top side to give us confidence it's going to continue to pressure back up into the 1.0100s or even towards the 1.0200-level.
On the other side of things, if we get some bearish momentum out of this back underneath the pink zone, likely 1.0020 or even 1.0000, we'll look for it to again be moving lower here for the USDCHF. So, really, at this current point, we really need a solid breakout preferably on the daily timeframe, but maybe on the four-hour outside this pink-shaded area. Then we'll look for a continuation. I do have an upside focus, and that's the direction I'll continue to focus for those opportunities. Dips into support or breakouts of resistance.
#EURUSD opposite scenario here compare to #USDCHF. Downtrend. Red trend bar. All of that pointing bearish here for this currency pair, but again, kind of stuck down here in the bottom of the chart. You could see the congestion down here, finding support right around the 1.0700-level. It's been holding just above 1.0700. A couple of challenges. A couple attempts. You could see the wicks of the daily candle sticking underneath 1.0700 and unable to break underneath it.
We see a challenge late last week, trying to get back above it. It was a very short lived challenge. Got right back into our support zone. 1.0765 is the top of our blue-shaded area. Similar situation, yet opposite of the USDCHF. It needs to break out underneath 1.07000 to continue the downtrend. A breakout, open and close above the blue zone preferably on the daily timeframe would likely look for the continuation or the turnaround of the trend a head back higher for the pair. If we get an open and close single candle body above 1.0765 or so, that gives us the clue to the top side. Otherwise, focusing the trend. The down side is still going to be the major focus.
#GBPUSD we have seen much resistance. This is the daily timeframe of course. We've seen the past four days. Today included, four days finding resistance here at the orange zone. 1.5200 to 1.5245 is the orange-shaded area. As long as it's underneath there, I would focus my efforts on the down side, looking for selling opportunities underneath 1.5200 for the continuation lower. Again, I'm already in a sell here from the orange zone from late last week. So, I am in sell mode here for this currency pair, looking for the challenge back to the 1.5100s or even towards the 1.5000s if it can get some motivation lower.
The risk in this scenario – of course there's risk in every trade scenario – is that it breaks back above the orange zone and goes back higher again. That would be above 1.5245. So, as long as it's under the orange zone, focused on selling. Four-hour timeframe. We could see the attempt last week to break out underneath there.
#USDCAD uptrend is firmly in place. That's the direction we're focusing our efforts on over the past several days. I'd like to see a breakout of our resistance zone, and we really haven't seen that here. This is the daily timeframe. Zoom it in. Look at the green-shaded area. We've seen the 1.3300-level holding as resistance for the past week or so. It is making another attempt to break out about 1.3300. We'll likely wait to see if we can get a clear single breakout above here.
Four-hour timeframe. You could see sitting on top of that green-shaded area today, on top of 1.3300. I definitely think that if you're going to go long here, as close as possible to 1.3300, we're probably pretty close to that right now, looking for the continuation of the uptrend for the USDCAD.
#USDJPY it's an uptrend here for this currency pair too. We've been studying the pattern of the trend. The rise. The circle shows us a period of congestion, then we saw another rise, and now we're in that similar period of congestion. Just like where the green circle is, we're in that area now. A breakout above the resistance high, close to the mid-123s, the purple-shaded area, likely look for the next leg higher. Again, for this currency pair, four-hour timeframe.
#AUDUSD clearly this currency pair, long-term, has been in a downtrend. It's been multi years in a downtrend. We begin zooming it in here on the daily timeframe. You could see the red trend line here showing even the most recent trend being a downward-facing trend here. The orange-shaded area. Three days. Last three days has held as resistance. As long as it's underneath 0.7140, 0.7160, that's the orange zone, I think there is some downside expectation here for this currency pair in the direction of the longer-term trend.
Back underneath the blue-shaded area, back underneath 0.7100 or so, we could be looking for the next leg lower and a new low to be made underneath the 0.7020-level low. We could be looking for a new low underneath there if we start to get some more downside motivation. You could see the market just bouncing around between the orange and the blue-shaded area. Buyers, your lowest risk opportunity is the blue zone. Sellers, your lowers risk opportunity is the orange zone. Risk is on either side of those shaded areas no matter which direction you decide to trade the #AUDUSD this week.
#NZDUSD. This one finally taking a little bit of a push out of our congestions zone. Downtrend here. You could see the downtrend over the past couple of weeks. Last week, we basically sat in congestion between 0.6520 and 0.6570, bouncing around between the green and the orange-shaded area. Today is our first challenge, real challenge of that support zone underneath the 0.6500-level. If it can stay underneath this orange-shaded area today, which will be the main focus. Staying underneath here today, we'll look for it to continue down to the next support zone, which is the purple-shaded area, all the way down towards the 0.6400-level. This purple-shaded area basically surrounds 0.6400. About 20 pips above. Ten pips below it. Right into that purple zone. That's the next target if we can continue the downward pressure.
Four-house timeframe. We don't have even a four-hour open and close yet underneath there, but that will give us our first clue of a breakout and a selling opportunity for the NZDUSD this week.
Prodigy Trader DNA is a weekly and daily publication in association with FTD all rights reserved to review the original update you can use the following link http://bit.ly/ProdigyTraderDNA
José Ricaurte Jaén is a professional trader and Guest Editor / community manager for tradersdna and its forum. With a Project Management Certification from FSU – Panama, José develops regularly in-house automated strategies for active traders and "know how" practices to maximize algo-trading opportunities. José's background experience is in trading and investing, international management, marketing / communications, web, publishing and content working in initiatives with financial companies and non-profit organizations.
He has been working as senior Sales Trader of Guardian Trust FX, where he creates and manages multiple trading strategies for private and institutional investors. He worked also with FXStreet, FXDD Malta, ILQ, Saxo Bank, Markets.com and AVA FX as money manager and introducing broker.
Recently José Ricaurte has been creating, and co-managing a new trading academy in #LATAM.
During 2008 and 2012, he managed web / online marketing global plan of action for broker dealers in Panama. He created unique content and trading ideas for regional newspaper like Capital Financiero (Panamá), La República (Costa Rica), Sala de Inversión América (Latinoamérica) and co-developed financial TV segments with Capital TV.
He is a guest lecturer at Universidad Latina and Universidad Interamericana de Panamá an active speaker in conferences and other educational events and workshops in the region. José Ricaurte worked and collaborated with people such as Dustin Pass, Tom Flora, Orion Trust Services (Belize) and Principia Financial Group.