After the nonfarm payroll report on Friday, which prompted a selloff in the AUD/USD, the currency pair dropped to a one month low of 0.9350 in the opening of the the Asian session this morning, not far below the closing price on Friday.
Meanwhile, better-than-anticipated economic data out of China, in terms of IP, Retail Sales, FAI, CPI, PPI failed to make a positive impact on the value of the Australian dollar, mainly due to market nervousness about the possibility of further rate cuts prompted by the statement by the RBA on its quarterly monetary policy statement last Friday.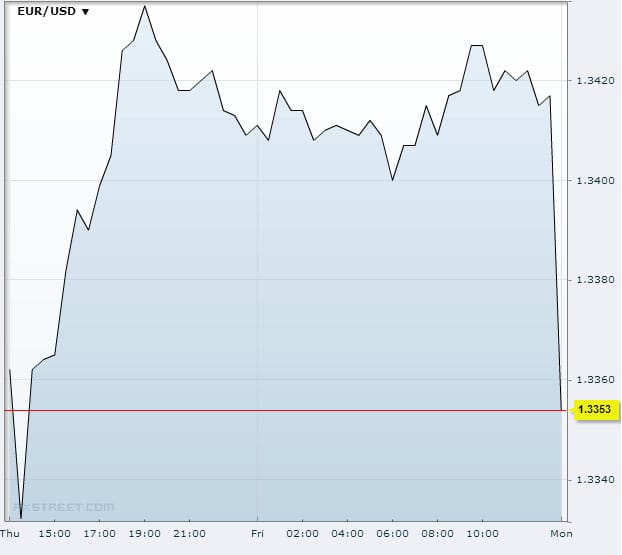 The massive decline in the EUR/USD last week has shown no signs of correction, with the downtrend continuing as many analysts predicted. The 1.3300 support level has been holding so far, but although there may be a bit of a rally to compensate for the massive downswing, the weekly RSI is bearish and supports the view that the pair could sink to around the 1.3100 level.
At the other end of the spectrum, the resistance level of 1.3547 looks likely to hold, but a breakout at the 1.3710 level could see the pair hit a target of 1.3800 over the course of today's trading. Early activity showed a massive selloff, but it's likely that there will be something of a rally upon the opening of the London session.