Blockchain and Cryptocurrencies share a common story. Blockchain was the technology used by Bitcoin's creator, Satoshi Nakamoto, to power up its revolutionary digital coin. Along all these years, blockchain has been used by many other creators as their back-end technology, giving birth to hundreds of other cryptocurrencies. It secured-by-definition nature, highlighting cryptography and the consensus protocol among others, have promoted the blockchain technology beyond the financial sector. However, and despite all the buzz created around, not much is known about how this highly complex technology works or how it is evolving in the cases in which it has been deployed already.
That's why we have brought three books, which are accessible and easy to learn and understand to tradersdna. In these, readers from all backgrounds can learn everything there is to know about Cryptocurrency Investing, Ethereum, and Blockchain in these easy to understand, straightforward guides:
Cryptocurrency Investing For Dummies
By Kiana Danial, CEO InvestDiva.com
Author Kiana Danial is the CEO of Invest Diva as well as an internationally recognized personal investing and wealth management expert. She delivers workshops and seminars to corporations, universities, and investment groups, and has been featured in Forbes and on CNN. She was named the 2018 Personal Investment Expert of the Year by Wealth & Finance International.
Cryptocurrency Investing For Dummies is the ultimate guide to the world of cryptocurrencies and helps navigate the new digital finance landscape. The book offers trusted guidance on how to make money trading and investing in the top performing 100 digital currencies, explaining how cryptocurrencies work, what the rewards and risks are, different types of cryptocurrency wallets and how to use them, and how to develop short and long-term investment strategies – all helping to create a crypto strategy that matches the reader's goals.
Cryptocurrency Investing For Dummies
By Kiana Danial, CEO InvestDiva.com
Published April 2019
ISBN: 9781119533030
Paperback Version: £19.99
---
Ethereum For Dummies
By Michael G. Solomon
Michael G. Solomon, PhD, is a full-time security, privacy, blockchain, and data science expert. An active speaker, consultant, and author, Michael is a professor of cybersecurity and global business with blockchain technology at the University of the Cumberlands. He has written more than 20 books on IT, security, and the PMP exam.
As an emerging application of blockchain technology, Ethereum attracts a wide range of professionals – from financial pros who see it as a way to enhance their business, security analysts who want to conduct secure transactions, programmers who build apps that employ the Ethereum blockchain, or investors interested in cashing in on the rise of cryptocurrency.
It takes a knowledgeable guiding hand to understand how Ethereum works and what it does — and Ethereum For Dummies provides that guidance. Written by Michael G. Solomon, one of the leading voices in the blockchain community, this book demystifies the workings of Ethereum and shows how it can enhance security, transactions, and investments.
Ethereum For Dummies
By Michael G. Solomon
Out Now
ISBN: 9781119474128
Paperback Version: £22.99
---
Blockchain For Dummies, 2nd Edition
By Tiana Laurence
Tiana Laurence is a blockchain pioneer, an investor, and a serial entrepreneur. She co-founded Factom, Inc., a software company that builds technology within the blockchain space. She is currently a columnist for TechTarget with writings focusing on blockchain and IoT and managing partner of Laurence Ventures, a firm investing in technology initiatives.
Blockchain technologies are disrupting some of the world's biggest industries. Blockchain For Dummies, 2nd Edition provides a fast way to catch up with the essentials of this quickly evolving tech.
This revised edition explains how a blockchain securely records data across independent networks. The reader-friendly guide offers a tour of some of the world's best-known blockchains, including those that power Bitcoin and other cryptocurrencies. It also provides a glance at how blockchain solutions are affecting the worlds of finance, supply chain management, insurance, and governments.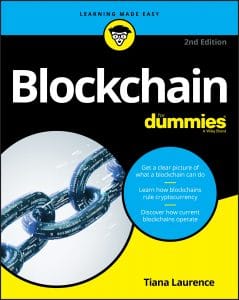 Blockchain For Dummies, 2nd Edition
By Tiana Laurence
Due to be published July 2019
ISBN: 9781119555018
Paperback Version: £21.99
Hernaldo Turrillo is a writer and author specialised in innovation, AI, DLT, SMEs, trading, investing and new trends in technology and business. He has been working for ztudium group since 2017. He is the editor of openbusinesscouncil.org, tradersdna.com, hedgethink.com, and writes regularly for intelligenthq.com, socialmediacouncil.eu. Hernaldo was born in Spain and finally settled in London, United Kingdom, after a few years of personal growth. Hernaldo finished his Journalism bachelor degree in the University of Seville, Spain, and began working as reporter in the newspaper, Europa Sur, writing about Politics and Society. He also worked as community manager and marketing advisor in Los Barrios, Spain. Innovation, technology, politics and economy are his main interests, with special focus on new trends and ethical projects. He enjoys finding himself getting lost in words, explaining what he understands from the world and helping others. Besides a journalist he is also a thinker and proactive in digital transformation strategies. Knowledge and ideas have no limits.