By Georgi Georgiev
According to infographic from SavvyBeaver Canada and a Singapore based start-up Call Levels, the Global investment in financial technology ventures tripled to $12.21 billion from $3billion in 2014 and went over $40 billion in 2015, clearly signifying that a digital revolution has arrived in the financial services sector. The world's financial technology leaders, cryptocurrencies, cloud computing, payment and lending solution are just a few of the innovations currently reshaping the financial services industry.
From a global level, Fintech is growing on a global scale with deals outside of core markets (US, UK, and China) accounting for 39% of deals. Also, and according to a report carried out by CB Insights, the US remains the top market for deals with 659 investments worth $11.89B funding, and there are now 39 VC-backed fintech unicorns worth a combined $147.37B.
Talking about opportunities, Beijing and China leads the way with over $57.8B funds raised. Though from a larger perspective, the USA provides the most attractive ecosystem for Fintech startups with roughly 4.7 million companies followed by India with 1.92 million and then the United Kingdom with 0.82 million.
There is one startup that has been crowned as the king of Fintech now: Ant Financial. This Chinese-based company raised most funds (approx $20B) only in 2018. Other major startups that have been valued over $1 billion (Unicorn startups) recently are Square Inc for mobile payments ($6B), Stripe for online payments ($3.5B), Powa – an eCommerce and mCommerce technology company ($2.7B), Prosper for P2P lending ($1.98B) and Adyen for payment processing ($1.5B). Presently the combined worth of these start-ups is more than the unicorns like Google, Microsoft and Facebook falling just below the major player Apple worth $663.1B.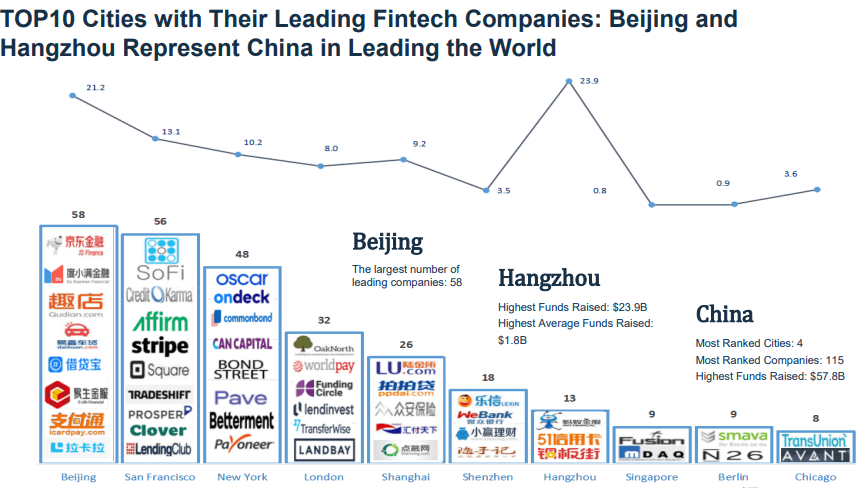 With the advent of new technologies, people are more comfortable managing their business and money online and hence are interestingly investing with stocks in Paypal and P2P lending platform like Lending Club. Even the giants like JP Morgan, Citibank, Goldman Sachs, Barclays and Spred see huge potential in the financial technology sector and are leading the way by investing millions in the industry. Retail investors also see a lot of opportunity in the Fintech markets. For those looking to invest in fintech there are now way more options than a few years ago, with many large stock brokerage and secondary private stock marketplaces offering multiple fintech investment vehicles.
Thanks to the mobile technology, the world is far more connected today than it was 15-20 years ago. These days when everything is possible with the click of a button, people want to do everything from the comfort of their homes, be it paying the laundryman for his services or be it making transactions online. It is the frictionless customer experience offered by FinTech that is making it the preferred choice of the customers. The availability of the myriad of apps like Call Levels to monitor the market, Stocktwits to guide through one's financial investments, Venom to make effortless payments without having to carry currency , Mint for payment processing has broadened the scope of financial technology.
FinTech has definitely captured a lot of public attention – for a good reason. If given the right environment, it could become one of the most powerful tools to support small as well as large businesses and thus stimulate sustainable economic growth. It is clear that the digital revolution in financial technologies is under way, but only time will tell if FinTech will live up to the tremendous hope and investment money – it offers. But in the vision of FinTech entrepreneurs, the day is not far behind when we would be handling even our banking using Facebook.
Made by: SavvyBeaverCA