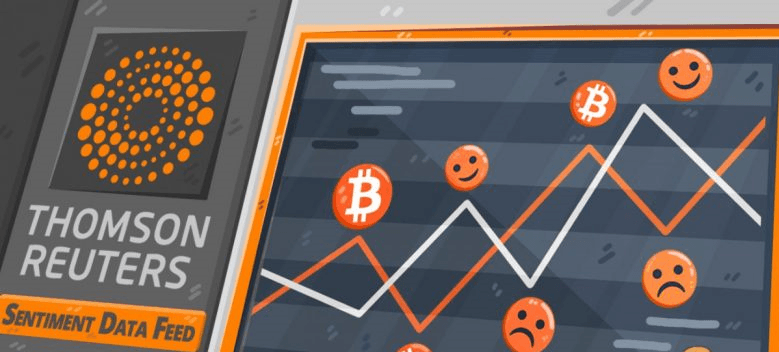 Thomson Reuters has expanded its sentiment data offerings to track the top 100 cryptocurrencies through its partnership with MarketPsych Data LLC, a market leader in quantitative behavioral science. This new MarketPsych Indices (TRMI) package uses machine learning and natural language processing to measure a breadth of emotional and topical items across news and social media sites that may drive market participant behavior in cryptocurrency markets.
According to a Thomson Reuters survey released in April 2018, approximately 20% of financial firms indicated they are considering trading cryptocurrency over the next 3-12 months. However, providing trading insight to the cryptocurrency market is unique, as online communications and information flow are significant drivers of cryptocurrency values, in comparison to traditional financial services assets.
Sentiment analysis of this market therefore often requires understanding the top cryptocurrencies at any given time, where individuals get their information, which digital platforms are used for communication, and how specific language or terms used may signify future trends (for example: FOMO, HODL, etc.).
Following the successful launch of bitcoin sentiment data in March 2018, Thomson Reuters has now created a dedicated TRMI Cryptocurrency Sentiment package (TRMI 3.1). TRMI 3.1 monitors more than 2,000 global news and 800 social media sites in real-time, yielding 43 themes and sentiments on the top 100 cryptocurrencies. Historical data dates back to 2009. To help identify the predictive value in this data, TRMI 3.1 is accompanied by visualization tools and a suite of quantitative research results developed by MarketPsych, including regression and cross-sectional rotation models, to help traders identify influential themes and more rapidly develop actionable strategies.
"The Thomson Reuters cryptocurrency survey revealed a shift in the market, with cryptocurrencies gaining some mainstream acceptance and financial institutions looking to start trading them over the coming months," said Pradeep Menon, Managing Director, Global Head of Investing and Advisory, Thomson Reuters. "Adding a cryptocurrency-focused sentiment feed to our suite of cross-asset solutions has therefore enabled us to provide our customers with invaluable insights that may help them make strategic investment decisions."
TRMI 3.1 is part of the comprehensive suite of cross-asset solutions and end-to-end trading insights that Thomson Reuters is delivering to customers for both traditional and emerging asset classes like cryptocurrencies. Earlier this year, Thomson Reuters introduced cryptocurrency trading capabilities on Thomson Reuters REDI, its execution management system, allowing users to trade CBOE and CME Group Bitcoin futures with full price discovery and charting capabilities. REDI is interoperable with Eikon's pre-trade content and functionality that supports an integrated and seamless trading workflow. Thomson Reuters currently provides prices for various cryptocurrencies via Eikon, and new Cryptocurrency Real Time Rates are accessible via Elektron Data Platform and through a customized API on Eikon.
Launched in 2012, Thomson Reuters MarketPsych Indices analyze news and social media in real time across 2,000 top global news sites and 800 global financial social media sites. TRMI converts the volume and variety of professional news and social media into manageable information flows that can help drive investing decisions and risk management across asset classes.
The data is designed to be seamlessly incorporated into both quantitative and qualitative analysis to help enable investment and other professionals to quickly discern patterns affecting their respective businesses. MarketPsych's text analytics engine uses patented natural language processing software.