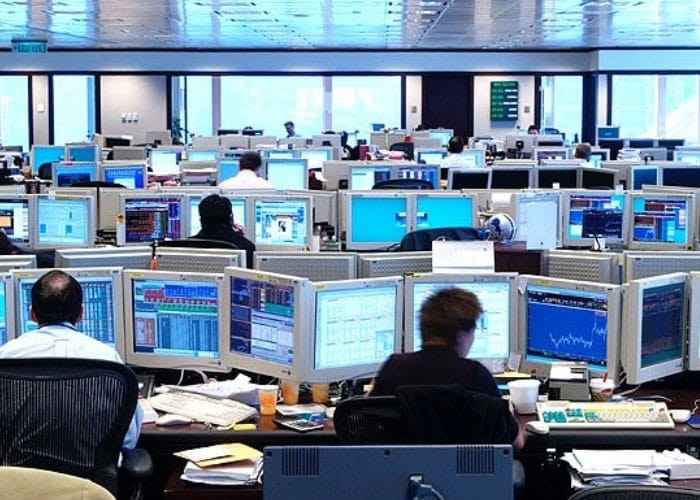 Like scalping, day trading is another short-term trading style. However, unlike scalping, where you are making lots of trades every day, a day trader typically makes one trade per day and closes it out at the end of the day.
Day traders like to make a prediction at the beginning of the day, make a trade based on this prediction, and finishing the day with a profit or loss. In general, they prefer to avoid holding positions overnight.
Day trading is a style that is suited to those who have the time before and during market hours to analyse, execute, and monitor a trade. If you don't have the reactions for scalping, but you want something a bit more fast-paced than swing trading, then day trading might prove to be the perfect mid-way point.
Day trading might be for you if:
You have the time to analyse the markets at the beginning of the day and monitor it throughout the day.
You like beginning and ending a trade within one day.
You like to know if you have made a profit or a loss at the end of each day
It might not be for you if:
You have a day job
You prefer trading shorter or longer time frames
You don't have time to analyse the markets and monitor your trade throughout the day.
If you do decide to day trade, here are some things that you need to consider:
You need to keep yourself informed about the latest fundamentals in order to help you choose a direction. Staying up-to-date with the latest economic news is a must, and you should also be aware of when planned economic releases are due.
Will you have the time and attention to monitor your trades throughout the day? If you have a full time job, you need to think how you will manage your time between trading and work. You don't want to get fired because you spend all day looking at charts.
Can you formulate and stick to a reliable day trading strategie? This is one to consider since panicking is the quickest way to losing money.
Types of Day Trading
Trend trading
This is a trading style that involves looking at a chart with a longer time frame to determine the overall trend. Once you have established if there is a trend, and if so which direction it is headed, you then switch to a shorter time frame and look for opportunities in the direction of the trend, using indicators to time your entries.
For starters, you need to work out what the overall trend is by looking at a longer time frame and using indicators to help confirm the trend.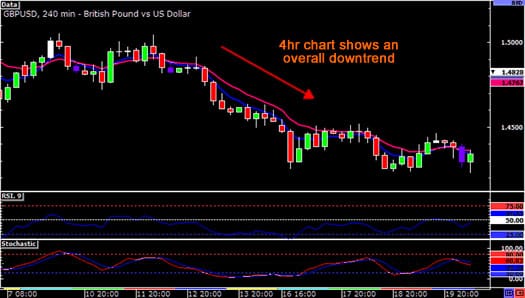 Then, once you have worked out the overall trend, it's time to move to a smaller time frame to look for entry points in the same direction.
`
Countertrend trading
This is a bit like trend trading except that, once the overall trend has been established, you seek out trades in the opposite direction. The aim with this is to identify when a trend is ending and get in early for when the trend reverses. This is a lot more risky than trading with the trend, but also a lot more potentially profitable.
In the chart above we can see a long, and exhausted, downtrend on the 4 hour chart. This is a sign that we may be about to see a reversal.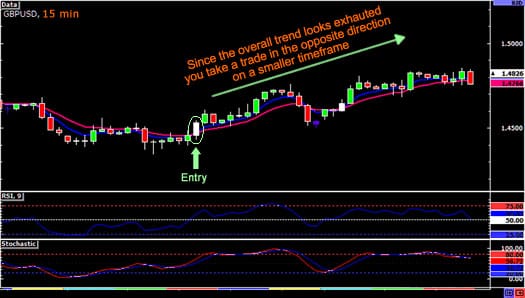 Because we are trying to trade "counter-trend", we are looking for trades in the opposite direction of the overall trend, on a chart with a shorter timeframe (such as a 15 minute chart).
While it is worth bearing in mind that bucking the trend can be a risky move, if you time it right you can enjoy massive rewards.
Breakout trading
This is a type of trading whereby you examine the range of a pair during certain hours of the day and place trade orders on either side of this range, hoping to catch a breakout in either direction. This can work particularly well when a pair has been trading within a tight range as this can indicate that the pair is set for a big move. The aim here is to set up your trades so that when a move takes place you are positioned to catch it.
With breakout trading, you have to find the areas where support and resistance have been holding firm, and set your entry points above and below your breakout levels. Generally speaking, you want to target the same number of pips as the range you have measured.