After rallying strongly last week amid rising tensions over the Syria issue, the safe-haven yen slumped to a three and a half month low against the euro yesterday as these tensions subsided.
The announcement on Monday by President Barack Obama that he saw a potential breakthrough in the Syria crisis, following the Russian proposal that Syria hands over its chemical weapons to avert US military action, has had a calming effect on the markets. This news set the yen, which is considered a safe-haven currency in times of crisis, tumbling against both the euro and the US dollar, as investors fled to higher-yielding assets.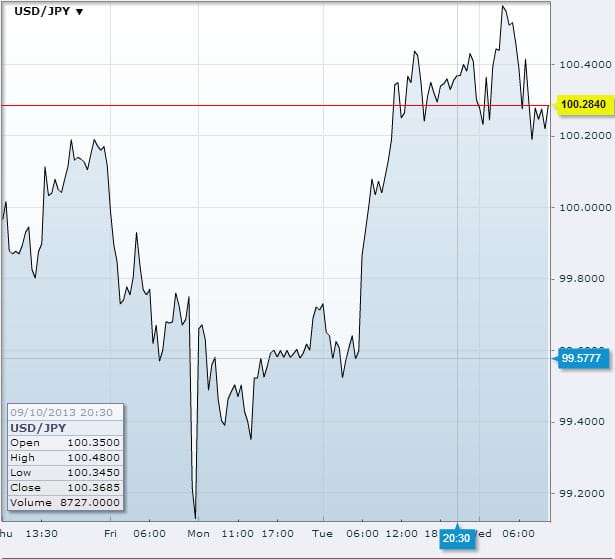 The euro was up 0.7% percent at 132.925 yen, the highest level since the end of May. The dollar also climbed 0.7%, climbing to a seven-week high of 100.37 yen. The dollar was also up 0.3% against the Swiss franc at 0.9347 francs.
Investor sentiment was further boosted by encouraging retail sales and factory output data for China that was released on Tuesday. Speaking to Reuters, Danske Bank's Head of FX Research Arne Lohmann Rasmussen said "Geopolitical risks around Syria are a bit smaller and we also had some decent numbers out of China. This is a good combination to go into riskier currencies, so people are moving out of the classic safe havens like the yen and Swiss franc"
The yen was also dragged down by the release of the minutes from the Bank of Japan's August policy meeting, which were released on Tuesday. These indicated that members were confident that the aggressive course of monetary stimulus being pursued by the central bank was helping the economy to recover. However, the dollar remained under pressure following the release of slightly disappointing US jobs data last week, which made the likelihood of anything other than a very gradual tapering of its own monetary stimulus package unlikely for the time being. In the wake of this news, the dollar hit a two-week low against a basket of six major currencies on Monday, although it has recovered slightly since. All eyes are on next week's Fed meeting, with San Francisco Federal Reserve Bank President John Williams saying on Monday that he is yet to make up his mind about supporting a reduction at the meeting.
The euro stayed flat for much of yesterday at $1.3249, trading close to the peak of $1.3281 reached on Monday, its highest point since the 29th of August. There are concerns, however, about a row in Italy over former leader and convicted fraudster Silvio Berlusconi, which could end up toppling its ruling coalition government and send the euro into a tailspin.