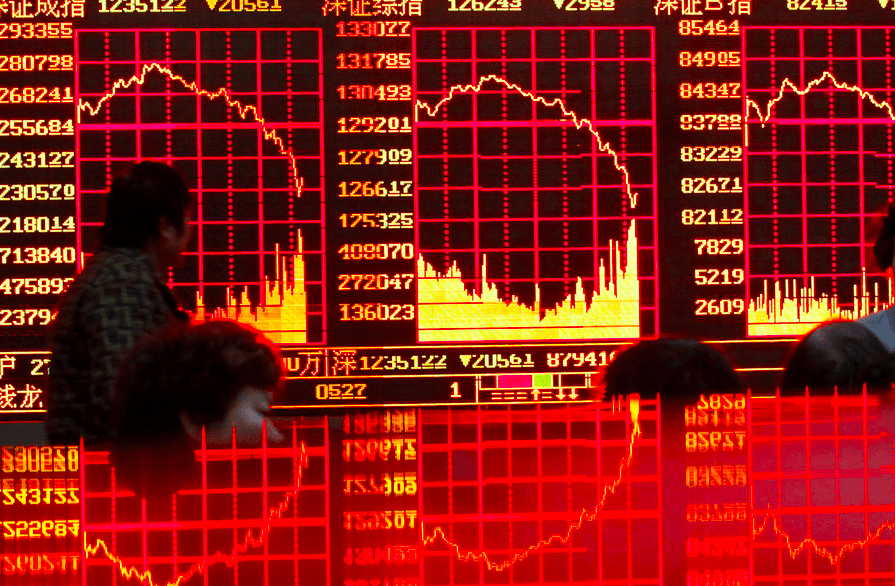 Global stock markets declined Monday, while energy prices also fell after weak Chinese industrial production and investment data underscored Beijing's challenge in reaching its 2015 growth target of around 7%.
World markets were under pressure after China's National Bureau of Statistics said industrial production rose 6.1% annually in August, well below forecasts calling for 6.4%. Separately, fixed-asset investment weakened in August, rising 10.9% annually compared with 11.2% the previous month.
Retail sales in China rose faster than forecast last month, climbing 10.8% annually.
The figures, which were released on Sunday, suggest continued weakness across much of the Chinese economy. Concerns about a more protracted slowdown in the world's second-largest economy has triggered massive volatility in global stock markets over the past two months, wiping trillions of dollars from the major exchanges.
After gaining nearly 4% last week, the Shanghai Composite Index fell 2.7% to 3,114.80 on Monday. The Shanghai Shenzhen CSI 300 Index fell 2% to 3,281.13.
The Nikkei 225 in Tokyo declined 1.6% to 17,865.70, as 174 of its members ended down.
European markets wavered at the start of the week, with Eurozone blue-chip Euro STOXX 50 declining 0.3%. London's FTSE 100 and Frankfurt's DAX were each down 0.2%.
Oil prices were also down at the start of the week. Brent crude for October delivery fell 61 cents or 1.3% to $47.53 a barrel on ICE Futures Europe. US benchmark West Texas Intermediate (WTI) was down 22 cents or 0.5% at $44.51 a barrel on the New York Mercantile Exchange.
The energy markets could face persistent headwinds this week as investors continue to react to a recent forecast from Goldman Sachs indicating that US crude could fall to as low as $20 a barrel next year. While certainly not the baseline estimate, Goldman outlined its doomsday scenario after acknowledging that the oil market was more oversupplied than previously thought.
The global financial markets are quickly turning their attention to this week's Federal Open Market Committee (FOMC) policy meetings, which are scheduled for Wednesday and Thursday. The Federal Reserve is under increasing pressure to begin normalizing monetary policy, but Chinese financial instability and weak inflation at home could delay rate-hike plans until later this year.
The official rate announcement will be released on Thursday and will be accompanied by fresh quarterly economic projections from Fed policymakers.