· 46% of UK firms and 45% of US businesses predict their country will go into recession in 2020
· A third UK firms (37%) and US firms (35%) also expect to see a global recession in 2020
· Increased geopolitical tensions such as trade tariffs, Brexit and regional instability are cited as the number one risk to businesses in the UK in 2020 (65%) and joint top risk to businesses in the US
Just under half of firms in the UK (46%) and US (45%) predict their country will go into recession in 2020, while the Chinese economy is expected to maintain a solid 6-7% growth rate, according to new research released today by trade finance provider Stenn.
The research, which spoke to over 700 senior executives at medium-large sized businesses across the UK, US and China, also revealed that well over a third (37%) of UK firms and one in three (35%) US firms expect to see a global recession or international global crisis in 2020.
In the UK, a third (33%) of firms expect the economy to shrink in 2020, with well over a tenth (14%) expecting it to contract by 1-3%. A further 6% expect the UK economy to stay flat with no growth. This comes after the ONS reported the UK economy ended 2019 in stagnation[1], under pressure from long-term uncertainty, mounting business costs and a global economic slowdown. The UK economy also suffered its worst month for growth in October for more than a decade, after the weakest three months since early 2009[2].
In the US, almost one in five (16%) expect the economy to shrink in 2020, most likely by 1-3% (7%). In addition, 6% also expect it to stay flat with no growth. The American economy was boosted at the beginning of 2020, from figures showing a continued recovery in the manufacturing sector and a drop in the number of unemployment claims, alongside Trump's announcement that a phase one trade deal with China could be signed on 15th January, but the economy isn't recession proof. The median US economic forecaster also currently estimates a 35% probability that a recession will begin this year.
Despite the ongoing US-China trade war, 93% of Chinese firms are confident the economy will grow in 2020. Within this, a quarter (25%) expect the economy to grow by 4-5%, while four in 10 (40%) expect it to grow 6-7% next year. Global shares rallied at the beginning of January after China injected more money into its economy, further cementing its likelihood of growth.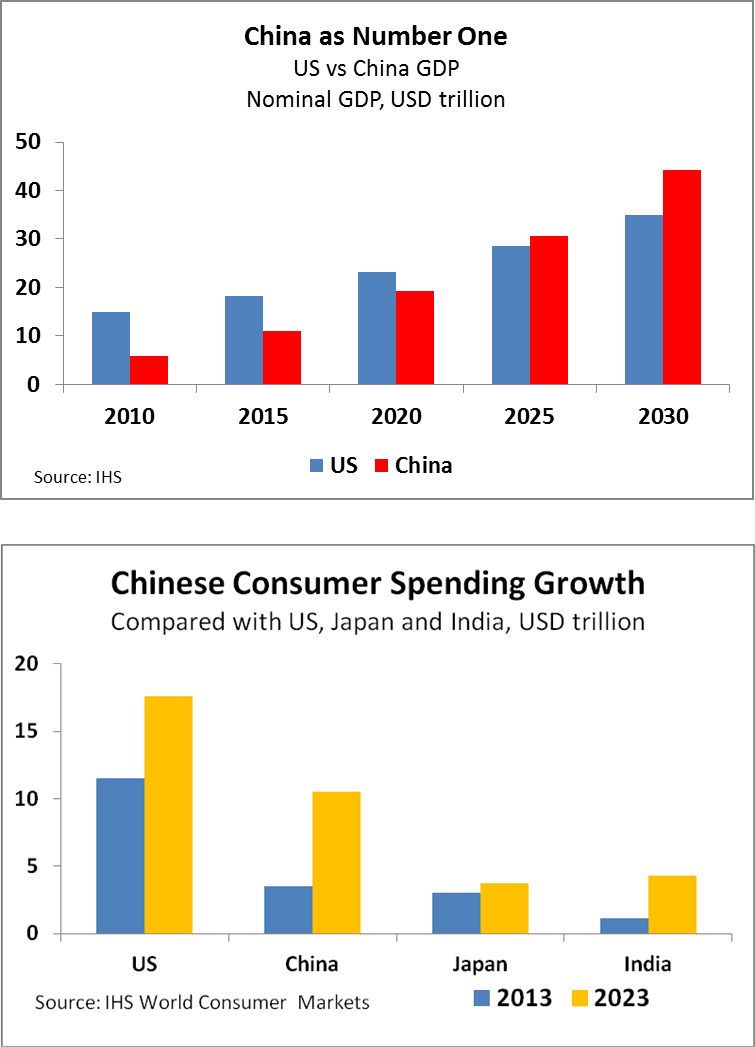 Risks to businesses in 2020
The study also looked into the largest risks to businesses in 2020 across the globe, with similar themes emerging.
In the UK, increased geopolitical tensions such as trade tariffs, Brexit or regional instability, are cited as the number one risk to businesses in 2020 (65%). Increased environmental concerns and climate change came in as the second largest risk (50%), while changing consumer behaviour, such as shopping online rather than in store, took third place (48%). A further 43% of UK firms also view increased cyber threats or data breaches as a likely event, and a top risk to be wary of in 2020.
In China, changing consumer behaviour (e.g. shopping online rather than in store) is cited as the biggest risk for 2020 (65%). Firms in China view a global recession or international financial crisis as the second largest risk to business (64%), closely followed by increased geopolitical tensions (62%), as firms navigate the threat of the US-China trade war.
In the US, firms have an equal weighting on the risk of increased geopolitical tension, increased environmental concerns, and changing consumer behavior to businesses in 2020 (all 54%). A further half (51%) also view increased cyber threats or data breaches as a top risk to businesses in 2020.
Dr. Kerstin Braun, President of Stenn Group, commented: "2019 was weaker than expected and the stakes are only higher for the year ahead. Trump has been playing games with global trade and while the Chinese are confident their economy will grow as it moves beyond the US-China trade war, it's a very different story in the UK and US."
"Boris Johnson's election result provided some much-needed solidity the UK has been craving and with Brexit confirmed to go ahead, businesses can begin to see a future," continued the expert. "But the prolonged uncertainty has been battling the UK economy and many businesses are concerned Brexit could cause the economy to shrink in 2020. It's vital UK firms start investing again as they exit Brexit limbo. This is critical for long-term growth. If current political and economic uncertainties ease, we could see a gradual revival in activity over the course of the year, likely by 1 or 2%."
At the same time, as the expert pointed out, the US is exposed to the effects of Trump's unpredictable trade actions. While some fundamentals like employment are good, there are enough economic red flags to signal weakness in the second half of 2020. For example, corporate and government debt levels are high and personal loans are up more than 10% from a year ago. This makes the economy vulnerable to shocks and dependent on the Fed to keep interest rates low.
Likewise, the Chinese economy has been growing at rates above +6-7% since the early 1990s, so the fact the majority are optimistic this will continue in 2020 is a good sign. A quarter still expect slower growth than normal, at a rate of 4-5%, which comes after China's economic growth rate slowed to a near 30-year low in Q3 2019, affecting people via the jobs market. We've already seen unemployment rates at historical highs in 2019 while we don't expect further improvements this year, we expect social inequality in China to increase over time.
"What's most worrisome is global trade. The capricious US-China tariff war, which started as a security and tech war,  has turned into political theatre at the expense of real businesses, while trade in and out of the UK after Brexit is still under threat. The uncertainty impacts short-term margins and long-term investment plans for companies with international supply chains. With the agreement on January 15th, one part of the trade war might come to an end but the tech war is likely to continue with no solution in sight," Dr. Kerstin Braun concluded.