Lex van Dam is a widely respected hedge fund manager, and is also one of the biggest names in trading education. Having worked in the upper echelons of financial heavyweights Goldman Sachs and GLG for much of his career, he found wider fame as the presenter of the BBC TV programme Million Dollar Traders in 2009. Having been a hugely successful trader for many years, he has no financial incentive to share his trading know-how with the wider public, but instead sees it as a public service and a way of giving something back to society.
Born and educated in Holland, he stumbled on his financial career almost by accident while doing work experience at investment bank Goldman Sachs in London. While he was enjoying his time as a student and was in no rush to enter full-time employment, the investment bank clearly liked what they saw in van Dam and offered him a permanent position, which he took up in 1992.
His first role was as a market maker, a point of contact for funds to buy stocks. This job entailed having a price at which he was prepared to buy a stock and a price at which he was willing to sell a stock, as he always had to be able to do whatever the client asked. There was no option to hang on to a stock if the client wanted it, so he had to be able to set a price for it that reflected the profit potential of that stock. This gave him an exceptional grounding in the often-irrational price movements of stocks, and the factors that influence them. Crucially, he gained an awareness of how the participants in a particular market affect the prices, and how important it is to know who these are so that you can detect what is causing, or what is likely to cause, big price swings.
From there, he slowly moved up the ranks to become head of a proprietary trading desk, which saw him investing in shares on behalf of Goldman Sachs. He left Goldman in 2002 to join GLG, which at the time was the biggest hedge fund in Europe. He then started his own hedge fund, Hampstead Capital, which he runs to this day, and an online trading academy.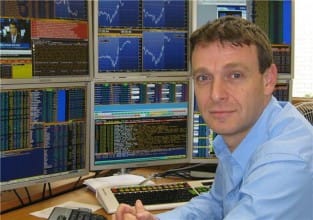 While describing van Dam as a controversial figure might be overstating it somewhat, he is nothing if not outspoken with his views, and this is what makes him such an engaging educator and trading personality. In a high-profile interview with the Financial Times, he described the financial markets as a "rip-off" racket, and was particularly critical of what he calls "bogus" trading education courses:
"There is so much bogus education going on in the world of finance and investing," he says.
"People pay thousands for courses that are totally useless. Education in finance is similar to selling snake oil. I am embarrassed by some of the methods people use to sell their 'know-how' to the unsuspecting public."
This was, in effect, his motivation for starting the trading academy and embarking on a career as a broadcaster. He saw it as his duty to educate the public properly about investing, having enjoyed so much success in this field himself. He doesn't claim to be offering a "get rich quick" scheme – he just wants to teach people about how the markets really work, and how professional traders really operate. Although he doesn't claim that it's easy to make money by trading, he is keen to push the point that anyone with a bit of intelligence and a lot of application can do it, and that it isn't just for a select few.
This was his aim with the Million Dollar Traders series on BBC2, which aired in 2009. This "Apprentice" style show, which is available to view in full on YouTube (first episode above) gave eight novice traders the opportunity to trade with £500,000 of his own money, in an effort to demonstrate that it wasn't as hard as many people might have thought to make money on the markets. It didn't quite go as planned, as the filming of the show unfortunately coincided with the global financial meltdown. In an interview with Moneyweek, he described it as being "the financial equivalent of giving a blind man the controls of a jumbo jet during extreme turbulence and telling him to land without damaging the plane."
Needless to say, the novice traders made some huge mistakes such as investing in the soon-to-be-nationalised bank Bradford & Bingley and losing vast sums due to the meltdown of US mortgage giants Fannie Mae and Freddie Mac. While the traders ended up losing money, they collectively only lost 2% of the starting capital, while professional traders lost 4% over the same period, which at least vindicated his theory that you don't need to be a professional day trader to make money in the markets.
One of the secrets of van Dam's success as a trader is his 24-hour commitment to keeping tabs on the market. He described his typical day as follows, in an interview with Trade2Win: "I need to be behind my screen at 7.00am and normally leave the office at about 5.30pm. I then go home and switch on my screens until about 9.00pm when the US market closes.  At night, my BlackBerry has Bloomberg on it next to my bed.  When I wake up at night it's hard to resist having a quick check at how the S&P futures are trading overnight.  It's never-ending."
Lex van Dam's latest project is a forex trading course called 5-Step-Trading FX, where he applies his deep and profound understanding of the markets to the field of forex trading. This course covers several areas that he feels are vital for success as a forex trader, including idea generation, fundamental analysis, technical analysis, trading psychology, and risk management.
Along with many of the leading lights of the forex industry, Lex van Dam will be speaking at the City AM Active Trader event in London's Grange Hotel Tower Bridge on June 21st, 2013, which was featured in Forex Think earlier this week. At it, he will be giving a talk entitled "Identifying Current FX Market Trends" at 9.45 in Conference Room 1 on the lower ground hall.