If you were keen on new tech, you would have spotted a new teaser video is circulating the web in the past few weeks – it's about the evolution of online trading. It's by the same innovative group of people behind the "CAN YOU REALLY TRADE FOREX" (game.tradable.com) social FX game that have also flourished on several social networks.
Apart from being funny, the video highlights some of the major challenges in the industry to date–challenges that tradable, a new venture, sets out to address.
The people behind tradable  promise that this is going to be one of the biggest projects in retail FX to date, backed by one of the leading investment firms in the business and supported by one of the top tier IT specialists in online trading. tradable also has engagement from the social web/tech industry, working with some of the leading innovation and tech firms in New York City. tradable  thinks that it's time for the online trading industry to catch up with modern trends and technology. Whether you are into algo, social, charting, indicators, gamification, analytics or simply creating advanced tools for trading professionals – tradable™ is reinventing the online trading platform.
Though the team says they are still very much under the radar and are not disclosing any details on the project, they are looking to redefine the traditionally fragmented technology space within online trading. It seems they are trying to accomplish this by creating an open developer platform on which 3rd party developers can code apps.
"What I can say at this point is that we have taken a fresh, new look at how technology is distributed in this space — vs. how it should be distributed" says Jannick Malling  CEO of tradable, "and with that, we flipped the model upside down in a way that will redefine what's possible within a trading platform".
Previously Jannick was Head of Innovation & Projects at CFH Group and Institutional Officer at Saxo Bank. 
Despite being in private beta, tradable has managed to gain traction with brokers and developers already: "I can also confirm that tradable will not be a regulated activity. It is an independent, neutral technology company that will contract with brokers and developers, with the ultimate goal of delivering the most personalized and customized trading experience for the end user that the industry has seen".
Jannick, a recently featured member of the week on LetstalkFX gave this brief cheeky interview on the site: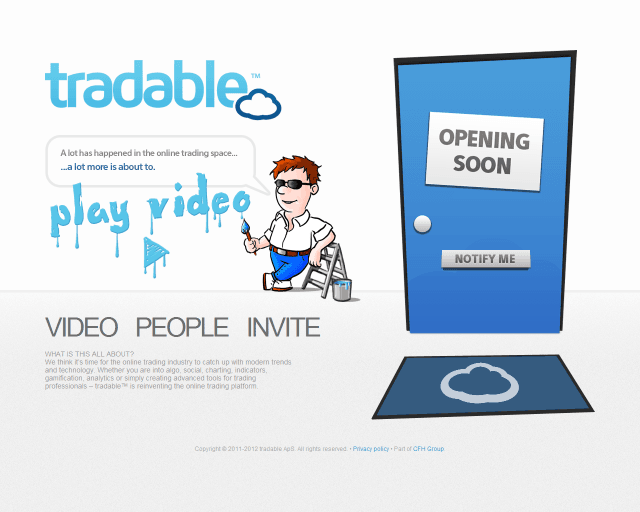 FX – asset class or commodity?
Somewhere in between – leanings towards asset class
Favourite or least favourite thing about FX?
Favorite – Action
The Euro – doomed or a born survivor?
Born doomed… 
Currency wars – threat or opportunity for investors?
Opportunity, always. 
BRIC markets – where would you put your money?
Brazil is extremely exciting right now. very interesting stuff happening in places like Rio, in FX as well as the general tech scene. Wouldn't mind checking out the carnival either
Chinese economy – bigger than US within 10 years?
Well.. yeah. And probably before that. Though US has healthier demographics and while I'm generally a believer in the its ability to bounce back due to its entrepreneurial culture and established currency – which are increasingly rare traits among bigger economies today – it can't keep up with China. Will continue to outperform its other western peers though (EU,UK,Japan) as it has since last year. 
Crisis in the Middle East – any positives for FX?
Crisis, problems, challenges…again – all opportunity at some level
Dodd Frank – a good or bad Act for our industry?
Not entirely good or bad – obviously puts a damper on US markets, but was (to a certain extent) needed at some level.
Black Swan – can Central Clearing prevent an event in FX?
Nah
Technology Arms Race – better for the FX buy or sell-side?
Benefits both… Really.
High Frequency FX trading – should it be self policing or regulated?
Should be self policing – and as LPs grow smarter, eventually i think it will be. Question is how (over)regulated it will become before that happens
e-FX platforms – should they become more client or product focused?
In the right mix – on the right platform – one doesn't rule out the other. 
Sun or Snow?
Sun – except for when going off piste in the alpes
Meat or Vegetable?
Meat
Real Estate or Stocks?
Brick & mortar
Town or Country?
Town as long as I'm in my 20s
Early Bird or Night Owl?
Night – until the early bird hours
If you were not in FX , what job would you have?
NBA All-star – for the Bulls or the Knic
tradable is set to go live at some point this summer. Though it seems has already closed off the first round of select developers and brokers that it will be working with for the initial launch, a shortlist for the second round is already in the making, which one can request invitation to at www.tradable.com