In the sixth part of our guide to the most influential forex voices on Twitter, we will be taking a look at some of the most widely-known and respected currency market analysts in the business. By following people such as these on Twitter, you can ensure that you get a more rounded view of the market, and what analysts are saying about it, than by following a few select blogs. This makes it easier to access and compare competing points of view on current market conditions and market-moving events, and give some insight into how the major market participants could be expected to act in certain situations. With social media now having a marked and direct influence on price movements in the markets, it is important to keep in touch with what is being said by the most influential figures in the business, including leading analysts such as these:
John Kicklighter
Senior Currency Strategist and Head of DailyFX
http://www.dailyfx.com/authors/bio/John_Kicklighter
https://twitter.com/JohnKicklighter
Twitter Followers: 19,154
Klout Score: 62

Based between San Francisco and New York, John Kicklighter is the chief analyst for FXCM's forex news and research website, DailyFX. Having been actively involved in trading since his teens, he takes a more holistic view of the markets than many analysts, having traded a variety of instruments including financial futures, commodities, stocks, and options as well as spot currencies since his teens. Holding a degree in Finance and Investment from the Zicklin School of Business at Baruch College in New York City, Kicklighter joined FXCM in 2005 as a research intern, landing a full-time research position soon after, and progressing to his current role in 2010. He adopts a more holistic view of the currency market than many analysts, combining both technical and fundamental analysis with money management disciplines.
Kathy Lien
Managing Director, BK Asset Management
https://twitter.com/kathylienfx
http://www.kathylien.com/site/about-me
Twitter Followers: 18,708
Klout Score: 63

Kathy Lien is one of the best-known forex analysts in the industry, having made several high-profile TV appearances, authoring several best-selling books on the topic of currency trading, and contributing to many trading websites and financial news outlets. At present, she co-runs her own asset management firm with fellow analyst and trader Boris Schlossberg. Despite her prolific writing output, she remains an active trader, and considers herself a "Trader First, and an Analyst Second". She began her career at JPMorgan Chase, working first as a market maker on their interbank FX trading desk and then as a cross-market proprietary trader, operating in the FX spot, options, interest rate derivatives, bonds, equities, and futures markets. She moved to FXCM in 2003, where she was given the task of heading up their new forex research and commentary website DailyFX.com as Chief Strategist. In 2008, she moved to GFT to take up the role of Director of Currency Research, writing for and editing the FX360 website, before breaking out on her own in 2012. Alongside all of this, she has also found time to make many TV appearances on the likes of CNN, CNBC, CBS, write articles for MarketWatch and Active Trader, do regular guest spots on Bloomberg Radio, contribute educational materials to Investopedia, and give trading seminars around the world. She has also written several best-selling books on forex trading including The Little Book of Forex Trading and Millionaire Traders: How Everyday People are Beating Wall Street at its Own Game. Her key strength as a trader and analyst is her deep cross-market knowledge, which gives her an edge in terms of predicting economic surprises.
John Hardy
Head of FX Strategy, Saxo Bank
http://www.tradingfloor.com/traders/john-j-hardy
https://twitter.com/johnjhardy
Twitter Followers: 1,692
Klout Score: 51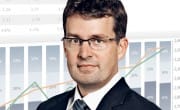 As Head of FX Strategy for Saxo Bank, John Hardy's daily FX column for Tradingfloor.com is one of the most influential and widely-quoted analysis columns in the forex industry. He has made several TV appearances as a guest commentator for the likes of Bloomberg and CNBC, and frequently comes out on top in the FX Week one-month and 12-month currency forecast indices. His column for TradingFloor is largely focused on central bank policies, macro-economic trends, and the major currencies, and he also contributes to Saxo Bank Quarterly Outlooks and the Outrageous Claims reports.
Neal Gilbert
Market Strategist, GFT / FX360
https://twitter.com/FXexaminer
http://www.fx360.com/about/
Twitter Followers: 1,416
Klout Score: 59

Neal Gilbert joined GFT in 2006 as a Market Strategist, principally writing for their news and analysis website FX360. As well as contributing regular analysis and commentary for FX360, he has authored several online educational guides for forex traders, including the Braving the Rapids strategy guide for the GFT website. His gift for explaining complicated concepts in a way that makes them easy to understand has made him one of the most influential trading educators, with a focus on explaining risk management techniques and common technical indicators, and training strategy. He conducts regular live webinars, most notably his "The Long and Short of It" live market fundamental analysis sessions centred around key economic releases. He also gives more broad-based educational webinars on topics such as Volatility and Risk Management, Trader's Edge, Fibonacci Trading and Theory, Basic and Advanced Technical Indicators.
Dean Popplewell 
Chief Currency Strategist, OANDA
http://forexblog.oanda.com/bios/
Tweets by dean_forex
Twitter Followers: 85
Tweets by ForexInsight
Twitter Followers: 9658

With over 20 years of professional experience in trading currencies and fixed income instruments for the likes of Scotia Capital and BMO Nesbitt Burns behind him, Dean Popplewell joined Oanda in 2007 to take up the role of Chief Currency Strategist. This involves, amongst other things such as advising colleagues and promoting awareness of the forex market, writing regular analysis posts for the Oanda blog. In these, he leverages his deep understanding of market fundamentals and the effects that global events can have on the markets to provide a valuable insight into the seemingly irrational movements of the currency market.
Other articles in this series:
Top Twitter Forex Influencers Part 1
Top Twitter Forex Influencers Part 2 – Journalists
Top Twitter Forex Influencers Part 3 – Journalists (continued)
Top Twitter Forex Influencers Part 4 – Journalists (continued)
Top Twitter Forex Influencers Part 5 – Journalists (continued)