Venezuela is currently undergoing an economic crisis due to declining global oil prices, over-reliance on oil exports and the government's restricted fiscal policy. Amid political and economic turmoil, non-cash payments in the country are growing rapidly, with payment cards leading the way, says GlobalData, the data and analytics company.
The company's report, Payments Landscape in Venezuela: Opportunities and Risks to 2022, reveals that card payment transaction value recorded a staggering compound annual growth rate of 439.4% between 2014 and 2018.
Sowmya Kulkarni, Payments Analyst at GlobalData, comments: "Hyperinflation, depreciating local currency and the resulting cash shortage have made it inconvenient for Venezuelan consumers to conduct cash payments, as doing so requires carrying cash in bulk. Subsequently, consumers have been forced to migrate from cash-based transactions to card payments, thereby resulting in a significant rise in payment card usage in the country."
In addition to payment cards, to promote electronic payments, the government introduced 'Billetera Móvil' mobile app in January 2018. The app enables individuals to pay for subsidized food products from local supply and production committees using their Homeland identification card.
Kulkarni concludes: "The increasing Increasing number of bank account holders, rising adoption of cashless payments, improved payment acceptance infrastructure and hyperinflation are anticipated to further drive electronic payments over the next three years in Venezuela."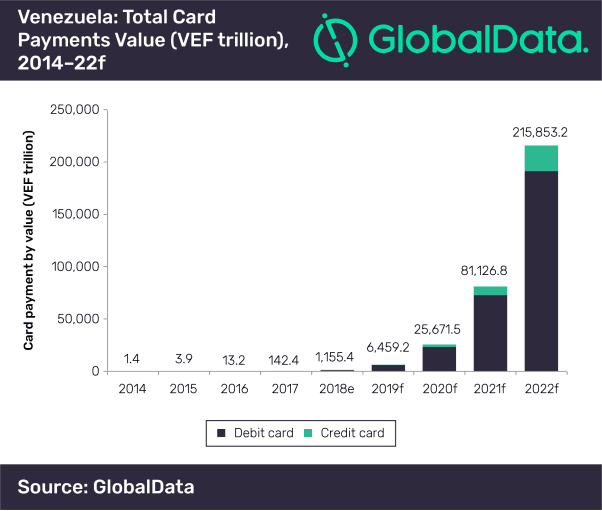 The Government's turn to Crypto
Venezuela also introduced the country's own digital currency, the petro, which is based on national petroleum reserves, in February 2018. Using the virtual currency, individuals can pay for fuel, air transport and tourism services. To promote the cryptocurrency, President Nicolás Maduro ordered the country's largest bank, Banco de Venezuela, to accept transactions in petros in each of its near-790 agencies across the country.
In fact, Venezuelans have turned to cryptocurrency as a viable alternative to the devastating decline in the bolívar. Even before the most recent devaluation of the bolívar, Venezuelans began turning to bitcoin and other cryptocurrencies as a means of storing value.
Cryptocurrencies offer citizens a way of purchasing and storing value that isn't controlled by a centralized party and Venezuela offers a real-world example where centralization goes awry. Due to capital limitations enforced in the country, it's increasingly difficult for Venezuelans to get a hold of other fiat currencies like the USD. Cryptocurrencies, on the other hand, remain decentralized and operate agnostic of geographic location, political borders, and government control, meaning anyone and everyone can take advantage of them.
For Venezuelans, cryptocurrencies aren't a novel concept about the future of the financial world, they're increasingly becoming a part of daily life. Daily volume for bitcoin in Venezuela is now greater than $1 million per day and consumers are embracing other altcoins like Dash for daily transactions.
Hernaldo Turrillo is a writer and author specialised in innovation, AI, DLT, SMEs, trading, investing and new trends in technology and business. He has been working for ztudium group since 2017. He is the editor of openbusinesscouncil.org, tradersdna.com, hedgethink.com, and writes regularly for intelligenthq.com, socialmediacouncil.eu. Hernaldo was born in Spain and finally settled in London, United Kingdom, after a few years of personal growth. Hernaldo finished his Journalism bachelor degree in the University of Seville, Spain, and began working as reporter in the newspaper, Europa Sur, writing about Politics and Society. He also worked as community manager and marketing advisor in Los Barrios, Spain. Innovation, technology, politics and economy are his main interests, with special focus on new trends and ethical projects. He enjoys finding himself getting lost in words, explaining what he understands from the world and helping others. Besides a journalist he is also a thinker and proactive in digital transformation strategies. Knowledge and ideas have no limits.