What are the most Trading and Economic Outrageous Predictions for 2014?
Leading online trading provider Saxo Capital Markets has brought together its TradingFloor.com team of financial analysts to make their predictions for the new year – and whether or not you agree with their assessments, it can't be denied that it makes for interesting reading. The predictions have been presented in the form of ten infographics, each covering one outrageous prediction for the year. Currently, you can download five infographics covering the first five predictions from TradingFloor, with more becoming available soon.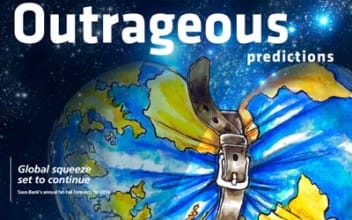 The over-riding theme of the predictions is that the global economic squeeze is expected to continue this year, with ramifications for markets across the globe. Saxo's Chief Economist believes that the US and German economies will slow to zero growth, and that this will force policy changes – particularly with regards to what he describes as an 'economic addiction' to quantitative easing. Controversially, he compares the current economic model to that of the Soviet Union, and sees the EU wealth tax as heralding the return of Soviet-style economic thinking to Europe. Also, he thinks that the anti-EU bandwagon will gather pace this year, with an anti-EU alliance becoming the largest group in the European Parliament after this year's European elections.
Elsewhere, Saxo's head of Macro Strategy Mads Koefed predicts deflation in the US economy, and that the Fed will use all their quantitative easing resources to bolster the housing market. Head of Equity Strategy Peter Garnry identifies five big tech names that are set for a big fall, and sees the debt-addicted Bank of Japan taking dramatic steps to delete government debts.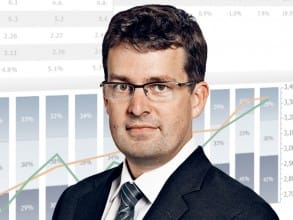 On the commodities side, Ole S. Hansen forecasts a drop in the value of Brent Crude to $80 per barrel as the disruptions in countries such as Iran and Libya start to smooth over, and echoes Jakobsen's view that the German economy could be set for some hard times.
Perhaps of most interest to our readers will be the predictions of Saxo's Head of Forex Strategy John J. Hardy, who envisages a massive drop in the CAC 40 due to the economic malaise in France, and that the currencies of some of the fastest-growing economies in the world – namely Brazil, India, Indonesia, Turkey, and South Africa – will fall 25% against the USD this year.