• Shell is UK's most valuable brand, valued at £36.5 billion
•  EY retains title of Britain's strongest brand
•  Fastest growing British brands include tech companies ARM and Softcat, pharmaceutical brand AstraZeneca and British Gas
•  Jim Ratcliffe's strategy of making INEOS a household name bears fruit
•  British motoring is accelerating as British marques switch to higher gears
• Just Eat Takeaway.com surges, Deliveroo struggles
View the full Brand Finance United Kingdom 150 report here
Shell (brand value up 13% to £36.5 billion) remains the United Kingdom's most valuable brand, according to a new report from brand valuation consultancy, Brand Finance. Shell leads the nation despite the challenges of COVID, the conflict in Ukraine, and perceptions of corporate sustainability practices in the oil and gas sector increasingly affecting consumer choice.
Every year, leading brand valuation consultancy Brand Finance puts 5,000 of the world's biggest brands to the test, and publishes around 100 reports, ranking brands across all sectors and countries. The United Kingdom's top 150 most valuable and strongest brands are included in the annual Brand Finance United Kingdom 150 ranking.
Shell is UK's most valuable brand, valued at £36.5 billion
Shell have placed a large emphasis on their energy transition strategy and it seems to be making a positive contribution to the strength of their brand Shell aim to become a net-zero emissions energy business by 2050, in step with society's progress towards the goals of the Paris Agreement on climate change. Shell's efforts to develop new clean energy technologies, including electric vehicle charging are likely to have a positive impact on the strength of their brand in future.
David Haigh, Chairman and CEO of Brand Finance, commented:
"The energy transformation is both the greatest challenge and the greatest opportunity facing the United Kingdom. The nation can be both optimistic and realistic about the risks and opportunities that lie ahead, but it will be tough for businesses to simultaneously navigate the recovery from Covid, the conflict in Ukraine, and broader concerns about environmental sustainability in the future. Shell, BP, and others, will be challenged to transform in coming years to leverage their brands to deliver for their customers."
EY retains title of Britain's strongest brand
In addition to calculating brand value, Brand Finance determines the relative strength of brands through a balanced scorecard of metrics evaluating marketing investment, stakeholder equity, and business performance. Compliant with ISO 20671, Brand Finance's assessment of stakeholder equity incorporates original market research data from over 100,000 respondents in more than 35 countries and across nearly 30 sectors.
EY (brand value up 9% to £17.0 billion) is the nation's strongest brand with a Brand Strength Index (BSI) score of 89.5 out of 100 and a corresponding brand rating of AAA+. The brand strength of EY is boosted by their client focus, with research showing improvements to their already strong customer consideration and satisfaction.
Fastest growing British brands include tech companies ARM and Softcat, pharmaceutical brand AstraZeneca and British Gas
This year's fastest growing British brand is British Gas, whose value grew by 142% to £0.9 billion. British Gas climbed 57 positions in the brand value ranking list from 146th to 89th. Much of the value increase is derived from the addition of over 500,000 new residential energy customers via M&A activity. The switch is likely to affect the way those customers perceive British Gas and may impact future brand strength performance.
AstraZeneca (brand value up 68% to £4.1 billion) was another significant improver, rising 14 places to become the 17th most valuable British brand this year. The company's successful development and deployment of a COVID-19 vaccine helped their brand name enter common vernacular in the UK. Their marketing challenge will be to utilize positive perceptions associated with their vaccine to drive consumer choice in the future.
Brand values in the British technology sector surged due to massive increases in demand for hardware and services. Both ARM and Softcat have seen large brand value increases (97% and 85% respectively). Marketing managers in the sector should measure their brand strength performance relative to their competitors and not necessarily take the large increases in their brand values as an absolute win.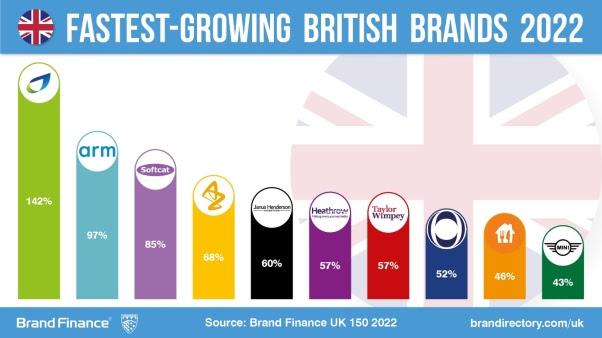 Jim Ratcliffe's strategy of making INEOS a household name bears fruit
Prior to Jim Ratcliffe's recent announcement of a potential Cheslea FC bid, petrochemical brand INEOS (brand value up 52% to £1.1 billion) had kept a low public profile. For many years, INEOS has been one of the largest companies in the UK, but given the nature of its operations has remained relatively unknown to the public at large.
Over the last few years, CEO Jim Ratcliffe has focused on the importance of a brand to both provide a metaphorical strategic compass for the direction of the company internally, while also benefiting from the obvious external rewards of a strong reputation. As a result, the brand has increased 52% in value to £1.1 billion and is now 75th in the table. This strategy has been best demonstrated by INEOS's campaign of sport sponsorship to quickly raise the profile of the company while adopting the brand values that sports and their teams provide through such partnerships.
David Haigh, Chairman and CEO of Brand Finance, commented:
"Sailing, cycling, and now Formula 1 partnerships have not only put the brand on the map for many but project a tangible manifestation to the public of Jim Ratcliffe's desired brand characteristics for INEOS. It is an excellent example of how companies can use the associations of sports partnerships to accelerate themselves into the limelight."
British motoring is accelerating as British marques switch to higher gears
A competitive exchange rate and the re-emergence of a post Brexit Britain has significantly boosted brand values in the British automotive sector. Changing export dynamics could affect consumer perceptions in foreign markets, so companies in the sector should carefully monitor changes to the strength of their brands in their key foreign markets.
Land Rover (brand value up 36% to £7.2 billion) remained the United Kingdom's most valuable motoring brand, and the nation's 9th most valuable brand overall. MINI (brand value up 43% to £2.7 billion) rose 17 places on the UK ranking to become the 32nd most valuable British brand. Jaguar in 47th position (brand value up 4% to £1.9 billion) remains just ahead of Bentley (brand value up 15% to £1.9 billion) in 50th position.
Just Eat Takeaway.com surges, Deliveroo struggles
Home delivery of food has increased substantially in the United Kingdom. Just Eat Takeaway.com (brand value up 46% to £3.3 billion) is now worth more than double Deliveroo (brand value down 37% to £1.4 billion), which may validate its focus on partnering with a wide range of local restaurants. Greggs (brand value up 40% to £0.6 billion) increased largely due to its exclusive delivery partnership with Just Eat Takeaway.com. Waitrose (brand value up 32% to £0.9 billion) grew in part due to increased delivery sales via their partnership with Deliveroo.
View the full Brand Finance United Kingdom 150 report here