Overview
A website operated by KW Investments Limited, ClickTrades.com is specialized in providing access to 2,100+ trading instruments, CFDs based on forex, shares, blends, indices, commodities, cryptocurrencies, bonds, and ETFs. It provides access to an award-winning platform and several trading tools designed to help traders navigate the uncertain financial market conditions.
ClickTrades is authorized and regulated by the Seychelles Financial Services Authority (FSA), operating for customers around the world, except residents of certain jurisdictions, including Japan, Canada, and the USA.
The pandemic had rattled the trading world, triggering a massive wave of selling in March. Stocks had dropped and, for the first time in a few years, currencies have become more active. With increased volatility in the FX market combined with the ClickTrades offer, users can get involved in tens of different currency pairs, including major, minor, and exotics, benefiting from fixed spreads and up to 1:300 leverage.
ClickTrades Trading Tools
As part of its goal to create the optimal trading environment, ClickTrades is providing proprietary trading software in the form of a WebTrader. Available via browser, the platform can be used on any device without any installation required, offering an intuitive experience, a wide range of charts and time frames, a high degree of customization, and some reputed third-party tools integrated into it.
At the same time, ClickTrades offers support for the popular MT5 platform, one of the most popular platforms in the world for CFD traders. Those wanting to trade Forex with the best trading software will find in ClickTrades a reliable trading partner, especially considering that MT5 provides access to a multitude of Expert Advisors (EAs). This is one of the best platforms to use when tackling increased market volatility.
Choosing from 3 different account types opens up access to multiple trading features such as daily market reviews & financial research, daily analyst recommendations, full access to a video library, a dedicated account representative, and the Trading Central tool (available for Signature account holders only).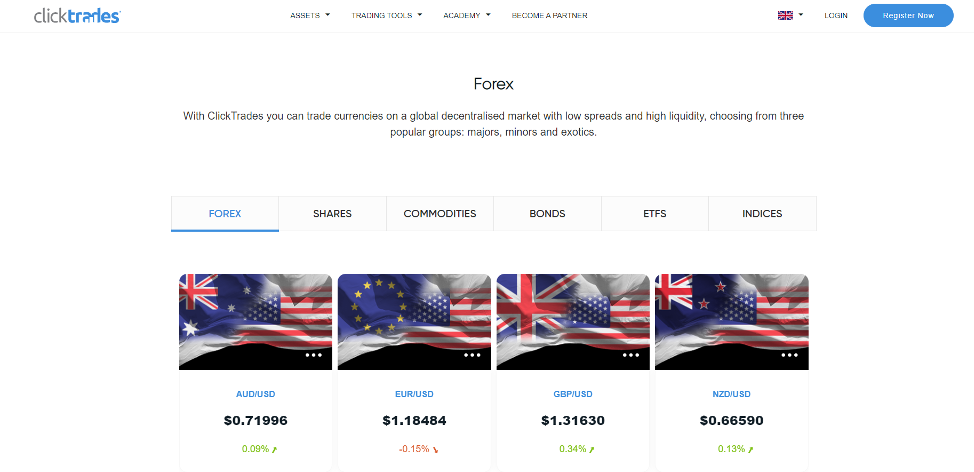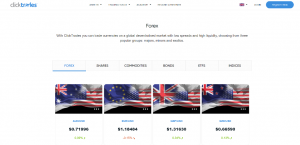 All these features combined with the competitive conditions make ClickTrades Forex strategies appropriate in the right context. Trading opportunities can be spotted on all three popular currency groups (majors, minors, and exotics), with the associated benefits of the largest decentralized market in the world. Advanced analytics tools are also integrated, to make trading a smooth experience, and enhance one's trading strategy.
Bonuses
To provide incentives for new customers, ClickTrades offers a special bonus. They can start with up to $3,000 bonus on deposit and have more capital available to trade. The trading bonus is subject to terms and conditions that must be met before making a withdrawal.
At the same time, ClickTrades is proud to announce the 0 Commission policy, which means the only trading costs will be the spreads and overnight swaps. This makes trading with ClickTrades more affordable in a world where brokers are aiming to reduce trading costs as much as they can.
Conclusion
Trading CFDs with ClickTrades provides multiple benefits, given traders will have access to reliable trading software, competitive trading conditions, and multiple trading tools designed to enhance capabilities and leverage the opportunities arising. With a long background in providing trusted trading services, ClickTrades continues to be one of the most popular Seychelles-based brokers, benefiting from an increasing number of customers. The mother company is also a reputed name in the trading/investing world, known for providing state-of-the-art financial services.
Risk Warning: The materials contained on this document are not made by ClickTrades but by an independent third party and should not in any way be construed, either explicitly or implicitly, directly or indirectly, as investment advice, recommendation or suggestion of an investment strategy with respect to a financial instrument, in any manner whatsoever. Trading CDF's involves significant risk of loss