It is no surprise that social media is expanding exponentially. Just look at how Facebook has turned out since it was created in 2004. It now has over 1.3 billion users worldwide. Twitter generates over 500 million tweets every day and LinkedIn has over 260 million active users, trying to make new connections and to find jobs every day. If you look at social media from a broader perspective, you will see that it has come a long way and has significantly aided people in accomplishing things that otherwise would not have been easily possible. It has become a vital pipeline for thoughts and actions, and words and decisions pertaining to everything.
Below is the Infographic by Digital Insights, that covers mind-blowing facts and figures about Social Media Growth in 2014.
As a result of such growth, there are some bullet points that might be important for a trader in order to understand the scale of potential information flow: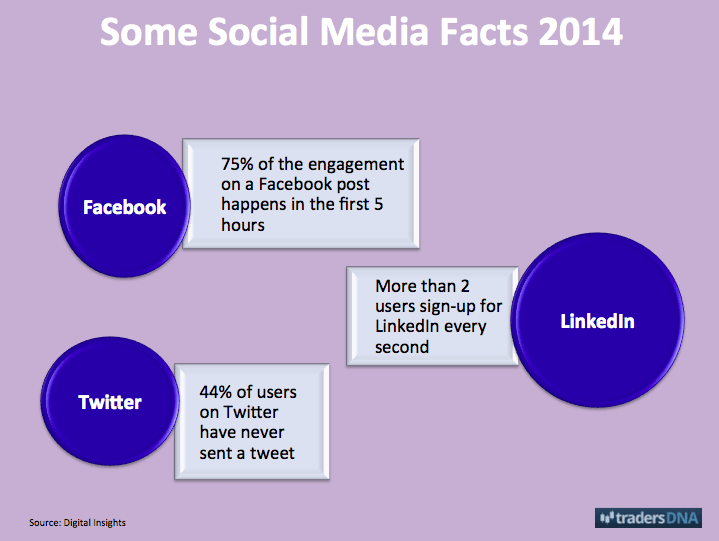 Looking at it from another point of view, you will notice that social media has become the combined load and barometer of ideas, thoughts, and impulses in regards to the entire world. It has also served to be a combined source of wisdom, observation, and emotional reactions for those in the financial markets, such as asset managers, traders, investors, and equity analysts.
The Extenuating Effect of Social Media on Daily Trading
Social media has allowed traders to conduct trades privately without being influenced by anything. The main difference between social media platforms for trading and a traditional offline social surrounding is that in the latter, you are more exposed to the decisions and the influence of other traders. Social media saves you from conducting misinformed or 'low information' trades or from following bad investment advice and decisions. For example, it helps you not to make rash decisions based on what your friends say about a particular stock, and how you should invest in it.
Social networking platforms provide traders with a complete net of streamlined information, which allows you to analytically consider a wider range of possible trading scenarios. For example, while a couple of your friends made money by investing in a certain stock, the majority of your friends and colleagues lost money investing in the very same stock. So it is likely that this information will suppress your immediate emotional response, which is to buy those shares, and instead, you will decide to forgo this opportunity, which is a considerably better option.
High End Investors Seek to Utilize the Benefits of Social Media
According to a study which was a made a couple of years ago by LinkedIn, with the help of the Cogent Research Group, it was identified that various social media platforms were being used by high trading net worth traders of about $5 million belonging to North America. It was discovered that they used social media to help them with make critical trading decisions. It was also realized that those investors have made social media their prime tool for decision making.
Retail Trading: Becoming One with the Global Investors
While using different social media instruments to predict various market trends, retail investors can depend on various resources for accurate information pertaining to the market. The goals of individual retail traders totally differ from those of professional investors and traders. Retail traders thrive by working as a network which helps share and spread market related information and ideas. And, what better platform is there to share and gather ideas than social media? Thus, it makes for a natural breeding place for retail traders to become an integral part of the trading community.
Just look at Facebook's trading application for potential investors, called Zecco's Wall. The application is streamlined to allow investors and traders to monitor their stocks and to buy them via the application anytime they want to. The application has made access to a much larger network of information very easy for all traders.
Also, via social media, there are many online traders who can interact with other online traders with similar trading portfolios. This allows them to improve their trading together while participating in collaborative successes.
No trader in this day and age can say that social media has not helped them attain financial prosperity in one way or another. Social media has had an extremely powerful influence on the way traders choose to analyze and assess potential investment opportunities. With that being said, it is important to realize that one has to iron out the disorganized nature of the trading information available on and attained via social media networks carefully. In order to make effective use of it, it has to be diligently filtered because of the massive amount of information present, which can prove to be misleading if not analyzed properly.