Oil prices were under renewed pressure on Monday, with US-traded crude falling below $30 a barrel on lingering concerns over a worsening supply glut after talks between Saudi Arabia and Venezuela showed few signs that a production cutback would materialize.
West Texas Intermediate (WTI) for March delivery reached a session low of $29.57 a barrel in early morning trading. The US crude oil benchmark settled down 73 cents or 2.4% at $30.16 a barrel. International benchmark Brent crude fell 59 cents or 1.7% to $33.47 a barrel.
Oil prices have been under renewed pressure since last week's government report showing a record surge in US crude and gasoline inventories. At the same time, US investment bank Morgan Stanley warned that WTI would continue to trade below $30 a barrel by year's end.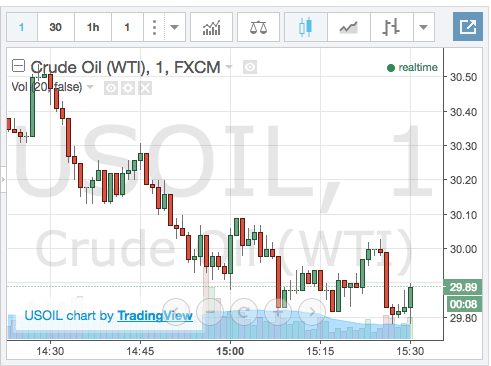 Meanwhile, weekend talks between Saudi Arabia and Venezuela showed no signs that OPEC was prepared to take measures to boost prices. Saudi news agencies described the meeting as "successful."
The US dollar strengthened against a basket of currencies on Monday following a rough start to the month. The dollar index, which tracks the performance of the greenback against six other currencies, rose 0.3% to 97.29. It was the dollar's second consecutive advance following a four-day slump.
While a stronger dollar weighed on oil prices, it was unable to put a cap on the gold rally, which shifted into higher gear on Monday. Gold for April delivery shot up $24.80 or 2.1% to $1,182.50 an ounce, the highest level on the Comex division of the New York Mercantile Exchange since October 16. Gold prices have surged more than $120 an ounce since the start of the year, as investors entered risk-off mode following extreme volatility in the global equities market.
Japanese stocks advanced on Monday after a four-day slump. The Nikkei 225 rose 185 points or 1.1% to close above 17,000.
Elsewhere in Asia, the main bourses in Shanghai and Shenzhen remained closed for Chinese New Year.
European markets took a major beating on Monday, as worries over global economic growth and the impact of negative interest rates drove share prices to their lowest level in 16 months.
The pan-European STOXX 600 fell 2.5% after declining by as much as 3.7% earlier in the day. In London, the FTSE 100 was down 1.8%. The major indices in Frankfurt, Paris and Madrid each declined more than 2%.