Canadian forex broker OANDA has announced that it will be integrating automated technical analysis functionality, powered by Autochartist, into its platform. This feature will be available for both live and demo accounts, although there are a few restrictions when using it in conjunction with the demo account.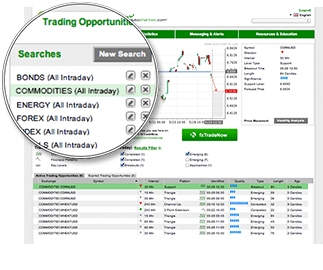 The new feature, which will be dubbed OANDA Technical Analysis, has been developed in conjunction with Autochartist, one of the biggest names in technical analysis software solutions. Basically, this new feature automatically detects when certain pattern formations are emerging, and also when they have been completed. It does this by scanning over 10,000 market data points every minute in an effort to identify chart patterns and price trends. When these are identified, the user is alerted automatically to a potential trading opportunity, and can place a trade directly from the analysis screen, using OANDA's fxTradeNOW feature.
How it Works
Using the new feature, the platform can be set up to identify patterns that are specified by the user, such as head and shoulders, triangles, wedges, tops, and bottoms. In addition to these, it can also be used to spot emerging and completed Fibonacci patterns from straightforward extensions and retracements, and identify horizontal support and resistance levels. The feature can also discern the quality of the patterns to give the trader a better idea of their likely reliability. The search function allows traders to create customized searches based on pattern type, pattern quality, time frame, and instrument. These can, in turn, be filtered and sorted by chart type, pattern quality, and pattern length.
In live trading mode, the market is scanned constantly throughout the day, and the trader is automatically notified when the patterns they have specified are emerging, or have completed. In order to help traders prepare for a trading session, OANDA sends customizable market reports by email three times a day, providing a quick summary of the current trading conditions before they begin their analysis for the session.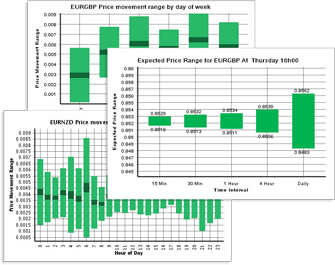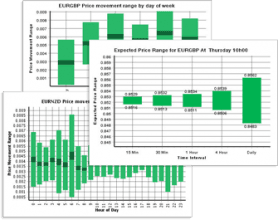 One of the most useful functions of the new feature is the volatility analysis tool, which helps the trader to set instrument specific exits based on estimated market volatility. This tool includes the facility for forecasting price ranges, using data from the past six months to help to set stop loss or take profit levels, and provides maximum expected price movements (statistical highs and lows) and average pip movement across a range of time frames.
The quality of the trading opportunities identified by OANDA Technical Analysis can be measured retrospectively using the Performance Statistics tool for up to six months previous. This can then be used to calibrate your search criteria in order to provide the optimal performance. According to Autochartist, their pattern-matching engine is typically 60%-80% successful in hitting its estimated price target, although this of course comes with the caveat that past performance is not indicative of future performance.
Availability
The new automated technical analysis feature will be free to use on live accounts without restrictions, but on the demo account, traders can only use it for a limited time, and the analysis is delayed by five candlesticks. It will be native to OANDA's own proprietary web platform, and will also be available as a plug-in for OANDA traders that use the popular MetaTrader 4 trading front end to employ automated trading strategies.
"Trading forex is risky and traders often use technical analysis to look for price trends that help inform their decisions in this highly volatile market. OANDA Technical Analysis automates that process," said OANDA's Senior Director of Product Management, Trevor Young.
"It's a powerful tool that helps traders include advanced technical analysis as part of their overall trading strategy, without the need to spend time developing complex algorithms. The solution's large-scale automated market scanning and customizable auto-alerts help to call out potential trading opportunities that traders may otherwise overlook."
Partnerships: A Strategy Shift for OANDA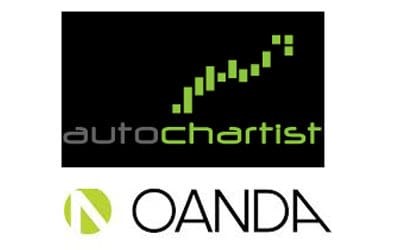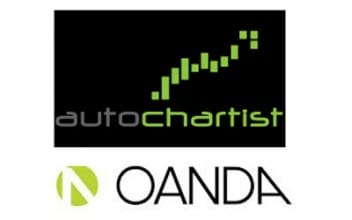 Traditionally, OANDA has developed all the code for its trading platforms in-house, in keeping with the company's heritage as a software developer first and foremost. However, in recent times, OANDA has reached out to other innovative companies in the online trading industry to form technological partnerships, and the new technical analysis feature is the first fruits of this new policy.
"We are working with a select group of trusted partners, such as Autochartist, that complement our technology and enable us to enrich the trading experience we offer to clients," he said. "The goal is to broaden OANDA's offering through a software development ecosystem based on strategic partnerships with companies that share our values of fairness, transparency, and innovation."
Autochartist CEO and President Ilan Azbel also expressed his excitement at the prospects for the new partnership: "With OANDA Technical Analysis, OANDA has launched a revolutionary product that enables clients to execute trades from directly inside the application through integrated 'fxTradeNOW' functionality – this saves traders the time and hassle of launching a separate browser window to execute trades once they've done their technical analysis," Mr. Azbel said.
"It's exciting for us that OANDA has plans to go way beyond our 'vanilla' offering to fully integrate the Autochartist API with their Java web and mobile platforms, bringing the power of our two platforms together for the benefit of traders."