The trading industry as whole as been disrupted massively in the last 20 years. However, the pace of this change has been particularly accelerated in the past 5 years with the emergence of more advanced big data platforms, algorithmic trading, crowd sourcing platforms, social sentiment analysis, social media and new and innovative cloud computing FinTech solutions.
With the industry is facing an extraordinary process of consolidation. there are as well more advanced FinTech advances affecting the trading activity as whole.
As we see this world of online trading moving through a rapid evolution at the moment, with social and copy trading gaining traction and algorithmic trading becoming more accessible than ever before, we see fantastic new platforms creating new value for traders and investors. In this special series, we shall be looking at some of the 'new kids on the block' to see how they might fit into the ever-shifting online trading landscape – especially those that are creating effective innovation in the sphere of trading.
Below there is a list we choose based on the value creation offered to traders and investors, with platforms dealing with crowd sourcing, social media, new content platforms and so forth. We will be presenting this list in various parts – here is the first one…
TradeCrowd
The market for social trading platforms and brokers has become increasingly crowded in recent times, with this format being widely seen as the main growth area in the online trading sphere. TradeCrowd is a new multi-asset social trading platform that aims to provide a streamlined approach to playing the markets. The beauty of TradeCrowd is that it provides all the functionality you might need within one dashboard, with two main feeds giving you updates on the activities of other traders and on the financial instruments you are following. These streams are both also populated with news from external sources and and that has been shared by users of the network, which can be easily discovered by using cashtags (eg $US30) and hashtags (eg #FTSE). Discovering the latest news about your favourite instrument is now quick and easy using cashtags ($US30, $EURUSD…) and hashtags (#FTSE, #EURUSD).
Tradable
The vast majority of trading platforms are built by one developer, with all of the functions having been designed by the same team. While there are undoubtedly some advantages to this approach in terms of compatibility and user-friendliness, it can often lead platforms to stagnate once all the most popular features have been built in. This is why Metatrader 4, with its huge library of third-party trading scripts, has succeeded where other algorithmic trading platforms have failed. Tradable is a new trading platform that provides a modular framework and a vetting system for 3rd party apps, so that the platform is completely customizable and constantly evolving. This essentially allows traders to design the platform they want using off-the-shelf components, with an active online community reviewing and rating each of the apps to inform the decisions of traders using the platform.
TopTradr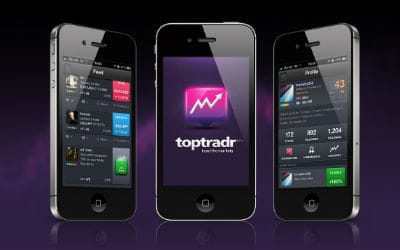 The first social trading platforms grew out of attempts to gamify the trading experience, with the evolution of eToro's OpenBook platform being a case in point. Yet, somewhere along the way, the gamified aspect has been lost and many of the current crop of platforms seem to be closer to traditional trading platforms, albeit with a social/copy trading focus. TopTradr, developed in partnership with FXCM, is a new mobile-centric social trading platform that reintroduces the gamified aspects of early platforms in a new and modified form, using trading competitions and ranking traders in terms of their overall performance and achievements rather than just raw profit percentages, which can be misleading.
TradingFloor
Having been early to the online trading party, industry innovators Saxo Bank have been curiously slow to dip their toe into the social trading waters. This all changed recently, however, with the transformation of their popular TradingFloor investment portal into a multi-asset social trading platform. It differentiates itself from the competition by only allowing live traders to share their trades, rather than those using the demo mode, which should promote a higher standard of trade leaders as they are prepared to risk their own money. Also, full trading histories for each trade leader can be viewed, lending greater transparency to the whole endeavour than on any other platform, although the identities of the trade leaders are allowed to be pseudonyms.