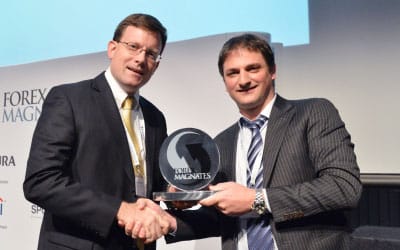 The forex trading industry is a notoriously secretive one, with competing brokerages keen not to give too much away for fear of the information being exploited by competitors in their marketing. This makes it difficult to find out hard facts about any of them, but it would be a whole lot more difficult without the fine work of Michael Greenberg, founder of the Forex Magnates group of websites, which includes forexmagnates.com and the educational site forexalliance.com.
His investigative work for these websites earned him the FXstreet award for 'Forex Person of the Year' in 2011. What's even more remarkable is that he has done all this without ruffling any legal feathers or losing any of his precious insider contacts. If anything, the transparency he has brought to the industry has been beneficial to the companies he features, increasing levels of trust and accountability within the industry.
Before founding Forex Magnates, Greenberg worked for a Forex software development company and an investment banking firm. While he has a vast amount of experience as a stocks and options trader, he doesn't trade himself any more, recognising that his strengths lie in other areas. He started Forex Magnates because he felt that the trading sector lacked a credible and reliable resource of information about industry trends, news, and events. At the time, much of the information about forex trading took the form of advertising and fake reviews sites, with the notable exception of Francesc Riverola's blog on FXstreet.com. In particular, he found that detailed information about the technologies used, execution models, volumes, and numbers of players at various brokerages was nearly impossible to find.
While it was something of a niche market at the time, Greenberg recognised the potential and started to work towards cornering it. He started off with a blog, and slowly but surely this turned into the Forex Magnates website, which is now essential reading for every professional in the forex industry. With the tagline 'Home for the Forex Elite', the website has been the premier source of forex-specific news since 2008, where readers can find the latest breaking industry news and an in-depth analysis of recent events.
Greenberg always seems to be the first person to know about anything in the forex industry, and there is a good reason for this. He is supremely well-connected, and has gained the trust of all the major players in the industry by refusing to publish unsubstantiated rumours, and double-checking the facts before he publishes anything. What is so remarkable about much of the information that he publishes is that he usually has to find it out for himself, no mean feat in an industry where many of the major players are private companies rather than listed entities.
A limited amount of information is available in the form of company reports and prospectuses, but he obtains the majority of it through his access to hundreds of key industry professionals and market participants and his own investigations. Sometimes, companies will provide him with information that they want him to know about, but not publish, and he always respects these requests. This enables him to provide a more informed commentary without ever compromising the trust he has built up within the industry.
In 2011, Greenberg started publishing the Forex Magnates Quarterly Forex Industry Report, a premium paid content vehicle that provides an astonishingly comprehensive picture of the current status of the forex industry. This report gives an overview of the latest market trends, trading volumes, and developments in various regions, and has become a required text for all in the forex industry.
In 2012, he rolled out a complete redesign of the Forex Magnates website roster, and launched the Forex Magnates Directory, which brings together all the available information about every broker and provider in the industry. Just last month, he launched a Forex Magnates app for smartphones and tablets running on the iOS and Android operating systems, providing easy mobile access to information stored in the various websites and in the Directory. Going forward, he plans to make his websites and document releases available in a much wider variety of languages, making it a truly global resource.
From spotting a small niche in the market a few years ago to creating an indispensable resource that is read and respected by the entire industry, it is no surprise that Michael Greenberg should be one of the most important thought leaders in the forex industry, and one that nobody in that industry can afford to ignore.