Today on Traders DNA, we have the pleasure of an interview with one of the true pioneers of the online Forex industry, Marc Prosser. Formerly the Chief Marketing Officer of NYSE-listed forex broker FXCM, Prosser played a pivotal role in the development of the online trading industry, establishing the popular DailyFX website and making several key innovations that have changed the industry for the better.
A couple of years ago, he set up a new company with former FXCM colleague David Waring called Marc Waring Ventures that owns several well regarded websites, including Learn Bonds, Forex News, and Fit Small Business. As someone who has been involved in the online Forex industry since its halcion days in the late 1990s, Prosser has seen the industry evolve from small beginnings into the multi-billion dollar industry we know today, and we are honoured that he has elected to share his insights with us.
Can you tell us about you and your background?
After I completed college, my first professional position was as an analyst for Forex News. The site had three analysts, one for each part of the day. At one point, the rotation of analysts included Ashraf Laidi (Chief Strategist of City Index), Drew Niv (CEO of FXCM) and myself. My speciality was technical analysis.
Very soon after I started at Forex News, the brokerage firm which owned Forex News wanted to redo their website. My introduction to marketing was writing copy and re-designing the firm's website in 1998. Very quickly, my responsibilities changed from providing trading ideas to attracting people that were interested in trading. I have been involved in marketing ever since.
What is your education background?
I have a bachelors degree in Economics.
You were a critical element for the foundation and growth of FXCM can you tell us about that experience?
I was the first employee at FXCM, and served as the Chief Marketing Officer for almost eleven years. FXCM was an extremely entrepreneurial culture. We pioneered many developments that have been widely embraced by forex market, like No Dealing Desk execution, mini / micro lot sizes, and trading from charts to name a few. However, there are several less well-known innovations that I am equally if not more proud.
Non-Commission Sales People – When FXCM started, the norm was to compensate sales people based on the trading volume that their client conducted. This created a high-pressure sales environment which was bad for clients and bad for the reputation of the industry. FXCM changed the model, eliminating volume based commissions and rewarding employees for great customer service.
Becoming The First Regulated Broker In The US – FXCM was the first online forex broker to become regulated as a Futures Commission Merchant. Ultimately, the early decision of FXCM to become regulated even before it was technically required, forced many other brokers to follow suit. This has radically cleaned up the forex industry, which at the time had many unsavory characters operating brokerage firms.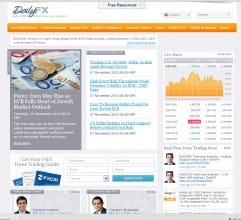 At FXCM you created DailyFX – one of the top Forex websites. How was that experience in hindsight?
DailyFX is an excellent site today. I think it has top notch analysis and great design which makes the site easy to use. However, I do think that I missed some opportunities with DailyFX. In early days, FXCM was a US focused company. Because US traders cannot trade CFDs, DailyFX did not cover metals, oil or stock indexes. Had DailyFX aggressively covered these financial products, I think the site would have even been more popular and helpful to traders. To be honest, I think gold and oil are still do not receive enough coverage by FX sites today, as forex analysts are not well versed in the fundamentals which drive prices like the seasonality of demand from India.
I should state that my company owns a site, Forex News, that competes with DailyFX.
What are the motivations behind the launch of your company?
A couple years ago, I launched Marc Waring Ventures, will another FXCM alumni, David Waring. I think every business person wonders what would happen if they got to "call the shots". We are finding out. We operate a few websites and are very excited by our latest one, Fit Small Business which help companies grow their top and bottom lines.
You started Learn Bonds and now Forex News. Can you tell us about both websites and the focus of it?
Learn bonds is site focused on educating and helping investors with fixed income. I am very purposely using the word investors, as the typical reader has a very long-term time horizon. The information is for a US audience.
Forex News is a trader focused site which I have a long history. In 2012, we acquired the site which has incredible search engine ranking. Over the last six month, we have been working on improving the content. I am proud to say we have original exclusive trade idea articles from FOREX.com, IG Index, CMC Markets and Liquid Markets on a daily basis.
How do you differentiate between the differentiators and focus of each website and its direct audiences?
Learn Bonds is special because it makes investing in bond easy to understand. There is no other site out there that provides a similar high quality educational articles.
Forex News has lots of high quality competition including Forex Think. There are two reasons why I think readers should visit the site: the exclusive trade ideas and high quality content curation. I believe that many fx sites overload readers with information that doesn't help them trade better. We only publish 6 or 7 articles today but, they are all very useful.
What are the main considerations about bond trading in the present shift landscape?
The dominant question facing bond investors is where to get a reasonable yield, without taking on much risk. With yields expected to rise over the next few years, there is a major risk that bond investments will lose value. On the other hand, bonds have historically provided an excellent hedge against the volatility of the stock market. A balanced stock and bond portfolio still has merit for a defensive investor.
Your speciality is trading forex and bonds, can you tell us about it and what are your views on it as an investment / trading opportunity?
Finding good opportunities in the bond space is very hard. I have personally been investing in consumer loans / p2p lending where your can still find double digit interest rates while lending to individuals with good credit scores.
I don't trade forex. While I believe that forex traders can do well, its requires an enormous amount of time and focus. Unfortunately, running my company consumes too much of my time and energy to be a successful trader. In the long-run, I am major bull on Brazil and Mexico and own stocks in companies that are positioned to benefit from the growth of their economies.
Being now on the entrepreneur side and as a trader what are your recommendations for forex traders and wannabe financial entrepreneurs?
In trading, risk management is the key. Risk management is not sexy and exercising a high degree of self-control. As a general rule, I would recommend against using more that 10 to 1 leverage and not risking more than 2% of your the value of your account on any trade. While this rule will not prevent you from making bad trades, it does mean that you will have opportunity to come back to the market the next day and try again.
Financial entrepreneurs . .that is a harder question. Warren Buffett once said "Don't invest in airlines." Along the same lines, don't go after a business because its sexy and in the news. I would be very cautious about starting a business around Bitcoin.