In March 2012, FXstreet.com, an independent portal dedicated to providing information and educational materials on the Foreign Exchange, announced the results of the 2nd edition of its Forex Best Awards, highlighting the best analysis, educational content and contributors on its website in 2011.
The finalists were chosen through an online survey conducted between February and March 2012, with more than 5000 cast votes. The contestants were nominated by the FX Street team based on content quality and popularity of the website. A total of over 35 pieces of content and almost 60 different contributors were chosen for the nominee list that has then been submitted to popular vote to define the winner of each category.
The survey was available on FXstreet.com website and from the Facebook fan page.
1. Best Fundamental Analysis on 'China's conundrum of liquidity, inflation and structural deficiencies' by Fxstreet.com
This report analysed the current issues concerning China's economy, making predictions about the market's concerns, challenges and future. The author of the report, an FX Street guest writer Dee Woo, who is a lecturer in economics at the Beijing Royal School, concluded his report's saying that: "the only way out for China is turning its economy into a consumption-led one. Or else fight for the overseas markets in vain and be prepared for trade wars. Or else try to reignite the economy with more wasteful investment and be prepared for a colossal asset bubble and epic hard landing."
2. Best Technical Analysis: "Experts Forecast Currencies Poll" by a pool of contributors on FXstreet.com: Adam Narczewski, Alberto Muñoz, Alexander Chepurkó, Andrei Tratseuski, Anna Coulling, César B. Leiceaga, Derek Frey, Dr. S. Sivaraman, ecPulse.com analysis team, Gavin Grier-Rees, Gonçalo Moreira, GFM Research Private Limited, Gregor Horvat, IKON Group Analyst Team, Ilian Yotov, Jeff Baskin, Keagan York, Lara Iriarte / Hugo Venter, Mauricio Carrillo, Mohammed Isah, Ross Yamashita, Stoyan Mihaylov, Tomas Cedavicius, Valeria Bednarik and Yohay Elam
FX Street publishes a weekly Experts Forecast Currencies Poll. The report, with contributions from prominent traders and analysts gives targets for the major currencies for the week, month and quarter to come, as well as identifying trends.
3. Best Banking Research Team: Wells Fargo
Wells Fargo, a provider of banking, mortgage, investing, credit card, insurance, and consumer and commercial financial services, has been offered recognition for the work of its research team. The team, comprising of a number of prominent economists and analysts, publishes regular financial and trading reports. Some of the most recent reports released by the group are: 'The Changing Behavior Of The U.S. Dollar' dated 20 March, 2012, which analysed the changing US dollar index in 2012; '2012 Economic Outlook', dated December 2011 and other weekly and monthly economic and financial reports.
4. Best Broker Research Team: DailyFX Research team
DailyFX, a free Forex market news and analysis website owned by FXCM provides regular reports which provide an in-depth coverage of price action, predictions of likely market moves, as well as exhaustive interpretations of economic and political developments.  One of the latest reports by DailyFX is presented by Joel Kruger, 'Technical Outlook for Major Currencies, dated 26 March, 2012.
5. Best Educational Content: "Lessons From the Pros" series, Q&A with Sam Seiden, Online Trading Academy
Written in a Q&A format, this collection of email correspondence with Sam Seiden offers practical advice on how to embark on a journey to self employment and empowerment through trading the financial markets. Online Trading Academy is world leader in professional education for traders and has extensive educative database including free online courses, webinars, lessons from the pros, blogs and Financial Education Center. The Academy publishes also Traders Virtual Magazine, the latest issue, March 2012,  focuses on 20 Habits of Wealthy Traders.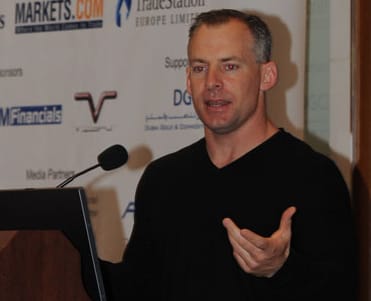 6. Best Educator: Sam Seiden
Sam Seiden, the Vice President of Education at Online Trading Academy has over 15 years of experience in equities and futures trading. Involved in trading since 1991, Seiden has traded equities, futures, interest rate markets, forex, options, and commodities for  years and has educated hundreds of traders and investors through seminars, webinars and daily advisory services.
7. Best Webinar: "Short Term Market Timing in the Forex Market" by Sam Seiden
In this webinar, Sam Seiden covers strategy rules for short term market timing when trading the Forex market. The video also shows Seiden applying these rules in the live markets.
8. Best Book: "Selling America Short" by Ed Ponsi
Written by Ed Ponsi, the Managing Director of Barchetta Capital Management LLC and the president of FXEducator LLC, this book describes the underlying reasons for the current economic crisis as well as the 'dismantling of the American dream'. Pointing towards those he believes guilty of the current situation, Ponsi's book makes a compelling read, as well as laying out practical solutions for the current crisis.
9. Best Magazine: FX Trader Magazine 
FX Trader Magazine is a quarterly publication distributed to private investors, money
managers, institutional FX brokers, Foreign Exchange desks etc. It provides currency traders with news, analysis, education and forecasts from market experts. The magazine publishes in-depth fundamental and technical analysis of trading strategies and trading markets; education articles and interviews with top traders, money managers and market leaders. It is known for providing useful trading tools and resources for FX traders.
 10. Best New Contributor: BabyPips.com
BabyPips.com provide humorously presented educational information about trading and currency markets directed at those new to Forex. The website is designed as an easy to understand step-by-step guide for those starting their trading careers.
11. Most Helpful Forexstreet.net Fellow: FX Bootcamp team
FX Bootcamp is a live market training organization that helps Forex traders navigate the currency trading markets. They offer help on building trade plans and strategies during the Asian, European and North American trading sessions. They also offer real-time discussions and chat service on technical and fundamental analysis.