Leading forex broker OANDA have launched a new, improved version of their lightweight fxTradeNOW online forex trading plug-in. .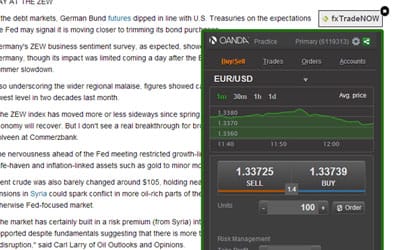 fxTradeNOW 2.0 has been specifically designed for new and intermediate traders as a starting point to experience the basics of forex trading. Its key feature provides users with the to ability to make trades anywhere they browse, without having to navigate away from pages they're reading. All they need to do is click the bookmark in their toolbar and a trading window with a price chart and basic trade order functionality will drop down, as shown on the right.
OANDA was co-founded by Dr. Michael Stumm, a professor of Computer Engineering at the University of Toronto, and Dr. Richard Olsen of The Olsen Ltd., a leading econometric research and development firm. Their belief was that technology and the Internet would globalise the marketplace, creating an unprecedented need for currency-related products and services. fxTradeNOW debuted in October 2012 and was immediately embraced by active day-traders.
It was born from one of OANDA's 'internal hackathons', events where teams of developers, designers, product managers and other employees collaborate to complete a project within a limited time. It started out as a widget, similar to Facebook's 'Like' button and developed into a plugin for Google's Chrome browser. Users of the platform are given the opportunity to trade forex, precious metals, and a variety of equity indices, commodities, and Treasury bonds.
Key features of fxTradeNOW include real-time price quotes for currencies, price charts in multiple timeframes, and the ability to enter take profit, stop loss, and trailing stop orders. Perhaps the most unique feature of the plug-in is that it is reactive, employing smart scanning technology to automatically search web text for mentions of currencies, pre-loading the relevant price data.
New Features in Version 2.0
So what's new with version 2.0? Well, instead of being tied to Google Chrome, it is now compatible with a much wider range of browsers, including Mozilla Firefox, Apple Safari, and Microsoft Internet Explorer 8. Social functionality has been added, allowing users to share their trading experiences with others via Facebook and Twitter. By using the app in combination with these social media platforms, it can be set up as a type of social trading platform, although automatic trade copying is not possible.
The app can now also be used in practice mode, allowing users to test their trading skills using $100,000 of virtual money over an unlimited time. The range of trade orders has been expanded to include market and limit orders, and all trades are seamlessly integrated with, and accessible on, other OANDA platforms including fxTrade Mobile, MetaTrader 4, and the full desktop version of the fxTrade platform.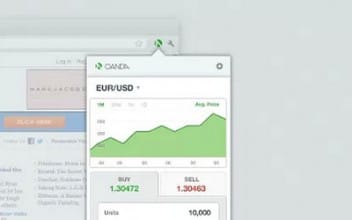 fxTradeNOW 2.0 is completely browser-based, which means that no downloads are required, and that the platform is not tied in to one device. All users need to do is drag and drop the button (which is available here) into the bookmarks on the browser toolbar, and they are ready to login and start trading, Finally, the app has been given a bit of a make-over, with a dark grey console and illuminated charts replacing the lighter, more minimalist look of the original version(which can be seen above).