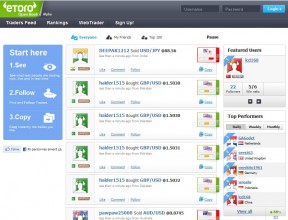 eToro is an online investment platform with a difference. Actually, there are several differences. For starters, unlike most of their competitors, eToro isn't actually a broker – it merely provides a user-friendly means to trade with a range of liquidity providers. Secondly, they offer social investing via their Open Book platform, which allows traders to share, learn from, and compete with one another as they trade.
At the time of writing, they are the biggest online investment network of their kind, with more 1.75m users in over 140 countries around the globe. This means that members can tap into the collective potential of a huge, diverse community of traders, so that you can see the trades that they make and how they pan out, and copy the strategies of the most successful traders. eToro is a truly global marketplace for traders, allowing people from all corners of the globe to invest in assets such as currencies, commodities, and indices.
One of the main strengths of eToro is that all three of their platforms share a simple, user-friendly design, rather than the forbidding, data-heavy layouts offered by most other online trading services. At the time of writing, they offer three different platforms: WebTrader, Mobile Trader, and Open Book.
The WebTrader platform is for users who just want a straightforward, easy to use trading interface that can be accessed from any computer with an internet connection, without the need to download any software.
Their Mobile Trader platform is a smartphone-optimised version of the WebTrader interface, which allows users to access real-time market information and make trades when they are on the move, and see, follow, and copy the top traders with just one click. At the moment, the Mobile Trader app is only available for Android smartphones such as the Samsung Galaxy and the HTC Desire, but they are currently working on adapting this for the iPhone, BlackBerry, and Windows Mobile platforms.
Their Open Book platform is a social trading platform that shares many aesthetic and functional similarities to popular social networking sites such as Facebook and Twitter. Using the Open Book feature, users can see real time feeds from expert traders detailing their trades as they occur. Users can also set up their account to automatically copy the trades of the best performing traders on the network in real time, using their award winning CopyTrader feature. This makes it a great place for inexperienced traders to learn the ropes. For more experienced traders, the Guru Trader programme enables them to earn wider recognition for their trading skills and monetise their expertise by earning commissions from those who profit by copying their trades. Traders can also compete with one another for prizes, which adds a fun extra element to the social trading experience.
They offer a free demo mode, which enables users to get a better idea of how the platform works, and try out a range of strategies in a risk free environment. They also offer a welcome bonus of up to $10,000, depending on how much is deposited upon signup, and a lucrative friend referral scheme that pays $100 for every person that you bring to the network, and $50 to each friend that joins up at your suggestion.