The euro fell this morning after a key German business sentiment survey for September fell short of expectations, following on from Monday's news that ECB President Mario Draghi said that the central bank was prepared to offer more long-term loans to banks to keep a lid on money-market rates.
The sentiment survey of 7,000 firms, which was published by Munich-based think tank Ifo, rose just 0.1% on the August figure – which was a 16-month high – to 107.7%, well short of the 108.2% forecast.
The euro fell to $1.3494 upon the release of the survey, having previously stood at $1.3514, and prior gains against the yen were also trimmed.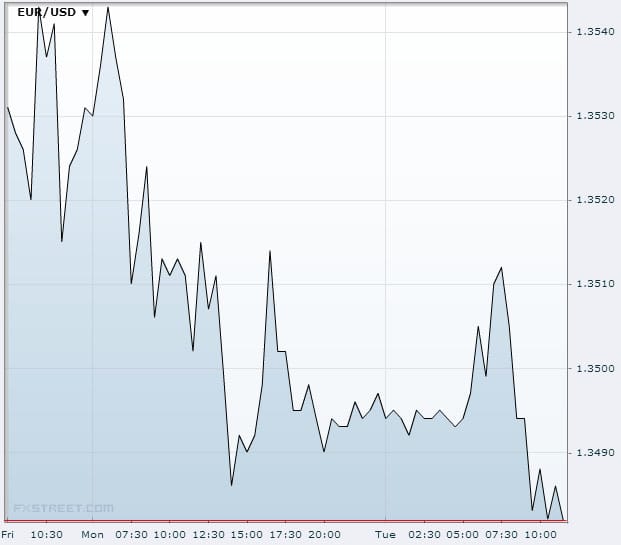 Draghi's statement regarding the ECB's willingness to offer more LTRO in order to avoid harming the economyhad already sent the euro on a downtrend yesterday, but many analysts were expecting a bounce from the Ifo data, which was released at 0800 GMT today.
The dollar also stayed under pressure after dovish comments from New York Fed President William Dudley, a close ally of Ben Bernanke, regarding last week's decision not to begin tapering QE3. Dudley defended the decision, citing fiscal uncertainties as Congress attempts to broker a deal to raise the debt ceiling and avoid a government shutdown.
Dudley's comments were taken by many to be a hint that the Fed is in no hurry to begin tapering, which pushed the dollar index down to 80.44, close to last week's seven-month low of 80.06. The decision not to taper, coming after several contrary hints from high-profile Fed members, came as a huge surprise to markets, causing risk assets to surge and a corresponding slump in the dollar.