With just a day to go before the debt ceiling deadline, US politicians have managed to reach an agreement to raise the debt ceiling and prevent a catastrophic sovereign default. This morning, the dollar fell sharply, as market attention shifted towards riskier assets.
The standoff has had a negative effect on investor confidence, with ratings agency Fitch hinting at a drop in the US' credit rating (currently AAA) and Chinese ratings firm Dagong downgrading the US from A to A-. It was certainly one of the main factors in preventing the Fed from tapering its stimulus programme last month, and the continuation of this programme is keeping the dollar low.
While markets have been soothed by the passing of the debt ceiling legislation, it is only a temporary fix, and has not solved the rift between Republicans and Democrats on the issue of spending and deficits.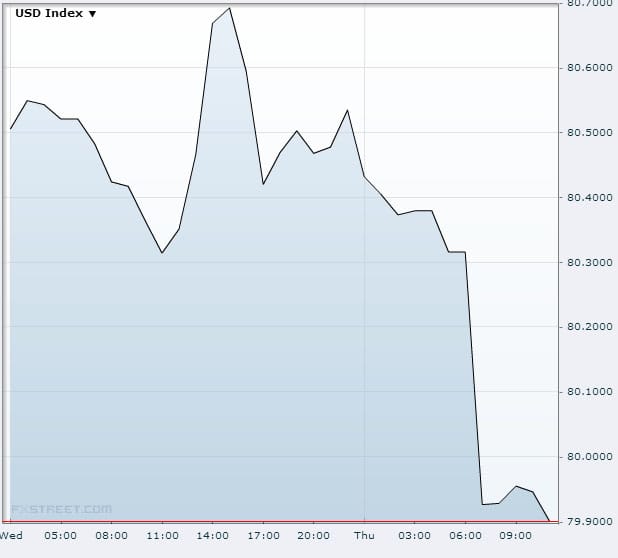 The dollar fell against most major currencies, partly as a result of falling U.S. Treasury yields, with the dollar index plunging 0.75 percent to 79.877. The dollar was down 0.8% against the yen, trading at 97.95 yen after hitting a three-week high of 99.01 yen earlier in the day.
The euro was up 0.7% against the dollar to $1.3638, close to the eight-month high of $1.36465 hit on October 3. Growth-linked currencies such as the AUD and the NZD were also pushed to multi-month highs, with the Australian dollar rising to a four month high of $0.9603 and the New Zealand soaring to a five-month high of $0.8467.