The trade war between the world's two largest retail markets is taking its toll, especially on China. Coupled with a slowing domestic auto market, the trade war is hurting Chinese retail sales. In eMarketer's latest worldwide retail forecast, they have cut their outlook for China and the US. As a result, China will not surpass the US in total retail sales this year, as expected in previous forecast. In fact, that milestone will likely not happen until 2021.
As of the latest forecast, retail sales in China will grow 3.5% in 2019 to reach $5.291 trillion. That's far below the latest report, which had China's retail market growing 7.5% to $5.636 trillion this year. If the current economic climate continues, retail sales in China will surpass the US in 2021 by about $93 billion.
Currently, China has a 21.1% share of the world's retail market, while the US has a 21.9% share.
"The US-China trade turmoil is even more of a concern for China now that domestic demand impacted one of the country's largest sectors: auto," eMarketer forecasting director Monica Peart said. "Other sectors such as manufacturing and construction still show strong growth. But with two simultaneous market challenges, retail sales may struggle to achieve the national growth target of 6.0% to 6.5% for the year."
Slowing auto sales are the main drag on the Chinese economy. The automotive industry, which includes auto parts, represents about 14% of China's retail sales. Domestic auto sales have been slowing since consumer tax breaks began expiring last year. In addition, China exports a large portion of auto parts, including to the US.
The forecast for China ecommerce sales is largely unchanged. Online retail sales will grow 27.3% to $1.935 trillion in 2019. That is by far the largest ecommerce market in the world, more than three times the size of the US ecommerce market. China has a 54.7% share of the world's ecommerce sales, while the US has just 16.6%.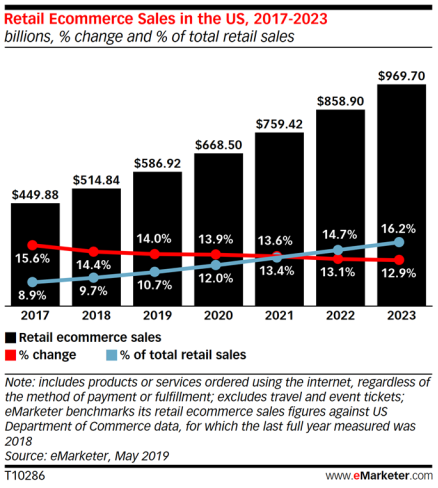 Meanwhile, the US is not immune to the effects of retaliatory Chinese tariffs. In fact, the eMarketer has reduced the outlook slightly for US retail sales from Q1 forecast. In their latest report, they now expect US retail sales to grow 3.0% this year (vs. the 3.2% forecast in Q1), amounting to $5.475 trillion.
Despite the slight slowdown, the US will reach a milestone this year, as ecommerce surpasses 10% of total retail sales. Ecommerce sales will grow 14.0% to $586.92 billion.
"While retail sales won't grow as much as they did in 2017 and 2018, they are still healthy," eMarketer forecasting analyst Cindy Liu said. "Low unemployment and higher wages are driving growth."