The ADP Non-Farm Payroll report, which measures employment growth in the US private sector, showed a lower-than-expected growth in the number of new employees being taken on in October. The number stood at 130,000, well short of the gain of 151,000 that was expected, and is the lowest since May. As a result, the original publication for September, which stood at 166K, has been revised downwards to 145K.
"According to ADP National Employment Report findings, the U.S. private sector added a total of 130,000 jobs during the month of October, well below the average of the last twelve months," said Carlos Rodriguez, president and chief executive officer of ADP. "Small business growth was down from the previous month, while payrolls among large enterprises showed an increase."
Speaking to marketwatch.com, Moody's chief economist Mark Zandi said, "The government shutdown and debt limit brinksmanship hurt the already softening job market in October. Average monthly growth has fallen below 150,000. Any further weakening would signal rising unemployment. The weaker job growth is evident across most industries and company sizes."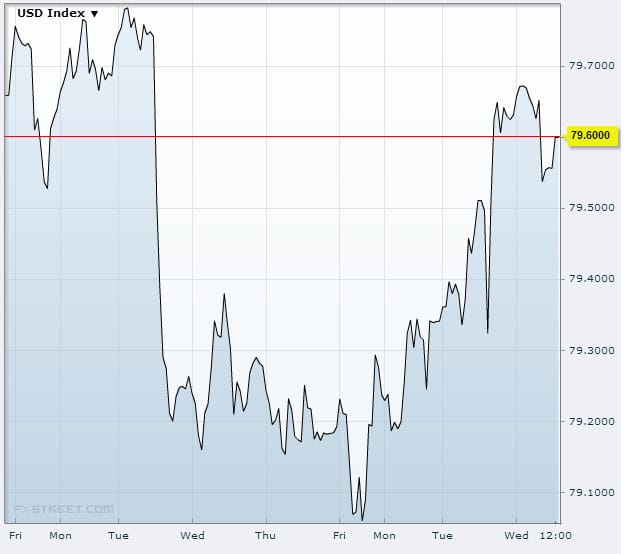 Prior to the publication of the report, the dollar had been on something of a rally, with investors trimming their bearish bets ahead of the outcome of the Fed policy meeting this afternoon. The dollar dipped against a basket of currencies upon the news, but is still trading well above the two-year lows reached last week.
The ADP report, a privately-produced alternative to the official Fed report that concentrates on the private sector, has assumed greater significance in the wake of the government shutdown, which has seen the official nonfarm payroll report delayed by a week. The official NFP for September was disappointing, and there is an expectation that the next NFP could be a negative number, given the weakness of the private sector numbers in the ADP report.