Master Investor is the number 1 investor show in the UK and it's back for its 13th year. Master Investor 2015 is the investing, stock-picking, technical-trading, market-beating exhibition that you, and your brokerage account, simply can't afford to miss. With around 4,000 people attending this is an unique event that manages different areas of investing and money management in a different and holistic approach not common to other investor events.
"We came to Master Investor because we want to get the message out to the investment community that we're a small cap. We wanted to get that message particularly to retail investors…. in the final analysis it's retail investors that influence the share price in small cap shares. A very successful day a lot of interest"
Tim Hair, Chamberlin plc
In Master Investor Show you can speak with investors, traders, startups and try out products and apps that help you manage your finances. You will be able to leverage and get the following highlights:
Top investment Uk and worldwide speakers and experts;
Opportunity to speak with leading companies and corporations as a small cap investor;
Opportunities in robotics;
Latest technology, including 3D printing, electric cars and virtual reality;
VR technology with the Oculus Rift exhibit
Launch of a start-up competition.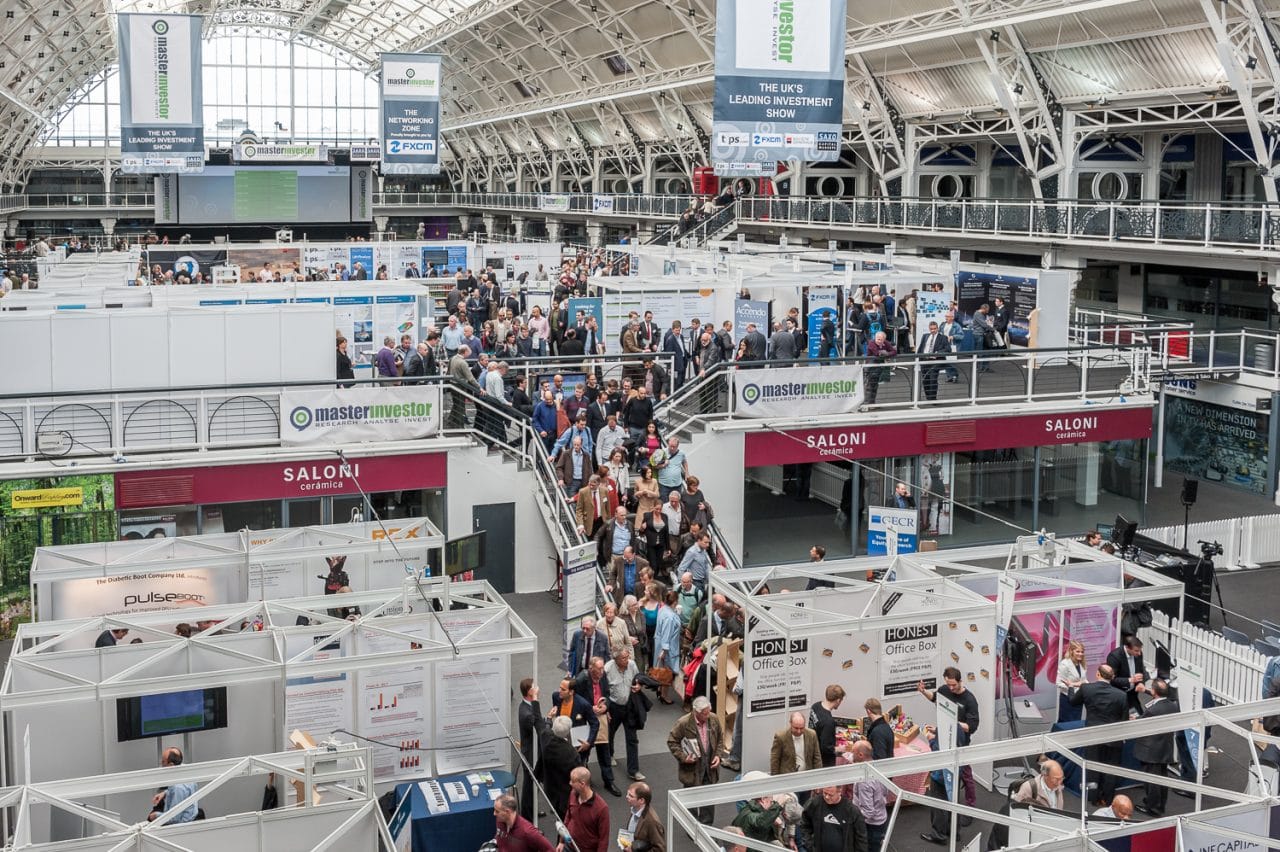 Our team highlighted 6 reasons why you won't want to miss It. When you're there make sure to check out the following absolutely outstanding events.
1. Speaker: Jim Mellon
Coming hot off a 2014 appearance that 96% of attendees rated highly, Jim Mellon is a rockstar investor. Entrepreneur, energetic investor, passionated speaker Jim Mellon has amassed a reported fortune of £850m by making the right calls and identifying various key trends or "money fountains".
After selling his company Uramin for $2.5 billion in 2007, the investor has held an interest in a variety of assets including international real estate and many companies across the globe.
Jim Mellon ran the single most successful investment on the AIM, and he'll share his ideas about the market with investors at the Master Investor 2015 event. With a net worth of around 850 millon and a reputation as Britain's Warren Buffett the maven is sure to draw huge crowds this year.
2. Speaker: Simon Cawkwell
The King of the Short Sellers, also known as Evil Knievevil, is famous for his many short campaigns that left British companies exposed. His most famous coup was the Emperor's New Clothes-like revelation of fraud in the accounts of Robert Maxwell's accounts.
Cawkwell also correctly foresaw the fall of Northern Rock, and sold the company's shares short in its crisis days for an ultimate gain of 1 million. With experiences from suing a Russian Prime Minister to semantic arguments with Betfair over Niall Quinn's career, Cawkwell is sure to surprise, and intrigue, those that turn out to see him.
3. Rising Stars Stage
Featuring companies that are generally outside of the reach of the ordinary investor, the Master Investor 2015 Rising Stars Stage will give people with retail money institutional access. The unlisted companies will have a chance to get up in front of the crowd and present their business to the gathered investors.
Investing from the ground up is not an opportunity that many investors ever get, but the Rising Stars Stage gives a taste of what it'[s like to be wooed by the best and the brightest Start-Up companies.
4. Speaker: John Piper
The "Psycho Trader" is heading for the Master Investor 2015 stage to show investors how to make money on Options, a black box to all but the most technical minded. Piper is the Editor of The Technical Trader, a leading Newsletter about options and he's the author of multiple books about the subject.
For those looking to get involved in the more esoteric side of the markets, derivatives like options are an inexpensive way to learn the tools and tricks needed to study the way markets work. Piper will be sharing interesting idea about options and futures and may have a tip or two for investors looking to break into the market for the first time.
5. Speaker: Nigel Farage
You may not agree with his politics, but Nigel Farage is a divisive figure that's interesting to listen to, particularly on the eve of a general election. The UKIP leader will speak about his vision for the future of the British economy at the event, a future that, as is well known, he believes should take place outside of the grip of the European Union.
With no other political party offering that kind of vision, Farage's ideas are worth listening to, particularly in a word where he and his independence-minded cohorts may form part of the next government, or a substantial part of the opposition.
6. Master Investor Start-Up
The Master Investor 2015 Start-Up competition will feature a wide variety of entrants looking to draw attention to their revolutionary new product, and maybe take the prize at the end of the exhibition. Start-Ups which will be exhibited include OpenTRV, a heating system that saves energy, which is ran by Register contributor Damon Hart Davis.
Master Investor 2015 will take place on April 25 in London's business design center. The show will feature a range of investors to hear from as well as assorted motivational speakers, startups, and technology acolytes trying to help you find the next big thing. Here's 6 of the events that you really won't want to miss out on.
You can look for more information at their digital details in these links:

https://twitter.com/MI_Show2015