120+ Speakers Including Former Nasa Astronaut Scott Parazynski, Bollywood Actor Javed Jaffrey Join Global Digital Transformation Openbusinesscouncil Citiesabc Summit Looking at Best Ways to Cope With Covid-19 Business Challenges.
Global Industry leaders, thought leaders, Universities and government officials will speak during the 3-day openbusinesscouncil summit in partnership with WSCF World Smart Cities Forum and in collaboration with Ruh Global Impact on 20th, 21st and 22nd April 2021.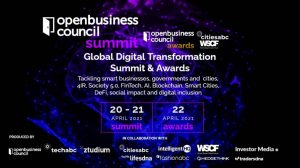 London, 14th April 2021 
openbusinesscouncil summit offers businesses and governments solutions to the urgency to create awareness for digital transformation, 4IR Tech to empower businesses and SMEs.
The openbusinesscouncil Summit and Awards, in partnership with citiesabc and World Smart Cities Forum, is running an online event with the aim to strengthen businesses, startups, and government's strategies post COVID-19.
The summit provides access to a unique audience and has indirect digital streaming in social media, that reaches over 10 million people.
The experts include, amongst others, high-profile personalities such as:
Javed Jaffrey – Bollywood film, TV Actor and Personality
Dr. Scott Edward Parazynski – Former Nasa Astronaut and CEO of Fluidity Technologies
Valeriya Ionan – Deputy Minister of Digital Transformation of Ukraine,
Jaewon Peter Chun –  President at World Smart Cities Forum.
Ben Goertzel, Founder of SingularityNET, co-creator Sofia the Robot
Dimitrios Psarakis – Brussels Council former EU Parliament
Michael Stanley-Jones – United Nations Environment Programme
Surina Shukri, CEO of Malaysia Digital Economy Corporation (MDEC);
Professor Kiran Fernandes, Professor and Associate Dean Durham University
Jawad Sardar, Director SUM Global – Smart Cities Specialist, Advisor to UK and Governments globally
The openbusinesscouncil summit team offers a 3-days event, covering urgent issues trending and disruptive topics, such as the boom of 4IR and AI, DeFi, the always-widening possibilities of blockchain and AI, the impact of leading tech in Finance and Society, the rising importance of NFTs, etc, in more than 50 panels.
Dinis Guarda and Hilton Supra founders of the event say: "We all have the power as stakeholders and our destinies to use the tech of our time, digital literacy and simultaneously using 4IR technology as a direct consequence of the COVID-19 crisis to serve and empower businesses and professionals worldwide #obcsummit."
The openbusinesscouncil digital summit will cover how COVID-19 is rapidly transforming Organisations. Businesses and Governments can only survive and ideally thrive, in an environment where new consumer behaviours can accelerate their digital transformation efforts.
openbusinesscouncil citiesabc summit will reflect and offer panels and masterclasses on:
Creating Smarter Digital Transformation Businesses in a Time of Covid-19 with 4IR, Big Data, IoT and Cybersecurity to Businesses and SMEs;
Challenges and Opportunities Digital HealthTech & Wellness Post Covid-19 and Digital Inclusion in Cities and AI
How can Tech4All, Tech4Good and AI4Good Support CSR and CDR;
Smart Cities and Digital Twins
The Future of Collaborative Innovation, Media, IP, Digital Platforms with 4IR & AI;
Finding our way Forward with UN SDGs, ESGs in the Post-Covid-19 World;
Redesigning Businesses After Covid – ESG – Sustainability – Finance and Digital Transformation Investment
Centralised Finance vs Decentralised Finance, Digital Assets – NFTs;
Scale-Ups and Venture Capital Accelerator Networks Aiding Growth to the Business Startup Ecosystem?
Fintech, GovTech, LegalTech and PropTech, & The WorkPlace of the Future
Blockchain, DeFi and CBDC – the Next Fintech Frontier
ESG, Carbon Footprint and Energy
About the organisers: openbusinesscouncil is a Leading Global Digital Business Directory Certification and Marketplace created by a team of global thought and business leaders with more than 20 years of working with governments, business networks, tech ecosystems and  universities.
citiesabc.com is a platform for smarter cities and their creative industries – art, music and film NFT marketplace network. citiesabc offers tools to the organisations and the people of the cities.
World Smart Cities Forum is a non-profit organisation established to assist local governments and municipalities to solve current urban challenges by building and developing human-centric smart cities around the world.
The event will be streamed in the fast-growing Dinis Guarda YouTube Podcast series https://www.youtube.com/c/DinisGuarda/videos
Tickets: https://www.eventbrite.co.uk/e/openbusinesscouncil-summit-and-awards-tickets-136828817677
For more information https://openbusinesscouncil.org/summit/
Summit & Awards video: https://youtu.be/hb9hnc9NHu0
Media and Contact: Serafima Semkina
serafima.semkina@ztudium.com – +447771321078
__________________________________________________
Meet The Speakers At Openbusinesscouncil Summit and Awards
The biggest names to speak at the conference and their bios can be accessed below. Openbusinesscouncil ensured the highest quality of speakers, who come from top positions in their fields.
Ms. Valeriya Ionan, Deputy Minister of Digital Transformation, Ukraine 
Currently working as a Deputy Minister for Eurointegration in the Ministry of Digital Transformation of Ukraine, she is in charge of the digital literacy national program (Diia. Digital Education), development and growth of SME with help of digital instruments (Diia.Business), new digital professions, online children protection, euro integration. Before working for the Ukrainian government, she was an entrepreneur. Valeriya graduated from the  MBA program at Edinburgh Business School Eastern Europe in Marketing, Organizational Behavior, Negotiations and Human Resource Management.
Jaewon Peter Chun, President at World Smart Cities Forum
Jaewon is the President of World Smart Cities Forum (WSCF), which is a non-profit organization based in London, England. He also founded ARK-i Labs in New York City, which is a smart city curator and investment company. Besides, he also founded and have run XnTREE, a Tech accelerator in Level39 which is the largest open tech cluster in Europe, which is located in Canary-Wharf financial district in London. In 2018, he was appointed Master Planner, head of Korea's smart city national pilot project, to create a master plan framework.
Jawad Sardar, Future Cities & Prosperity Specialist, DIT UK
Jawad is a  smart cities specialist who works with national and local governments across the world to develop leading smart governance, mobility, urban planning and sustainability projects. Most recently overseeing the Prosperity Fund Global Future Cities Programme (GFCP) for the Department of International Trade (DIT) as their Future Cities & Prosperity specialist. Jawad also works with tech companies to help build smart cities applications and use cases for Ai, IoT, AR/VR, and data analytics in cities.
Neil Milliken, Global Head of Accessibility, Atos, AxChat, W3 consortium advisor
Neil is the Atos representative on the Business Disability Forum Technology Task Force and have successfully instigated the adoption of and implemented the Accessible Technology charter. His role is to help make the world a better place by delivering better technology for his customers and staff, embedding inclusive practice into the Business As Usual Processes of organisations with thousands of employees and turnovers numbering in billions. His clients include: BBC, Department of Health, Ministry of Justice, Insolvency Service, and NHS.
Scott Edward Parazynski – Physician | former NASA astronaut
Scott is an American physician and a former NASA astronaut. A veteran of five Space Shuttle flights and seven spacewalks, Parazynski's latest mission was STS-120 in October, 2007 – highlighted by a dramatic, unplanned EVA to repair a live solar array. arazynski said he wanted to build a company based on what he'd learned as an astronaut, from collaborating with colleagues around the world to training and designing things in virtual reality. In 2016, he founded Fluidity Technologies in Houston. The company's first product, the FT Aviator, is a joystick used to fly DJI drones as smoothly as possible with just one hand.
Debra Ruh, Founder & CEO Ruh Global IMPACT
Debra has worked as a Global Inclusion Strategist since 2001. Before she became an entrepreneur she was an executive in the banking industry for many years. She created Ruh Global Communications to help clients reduce their compliance and brand risks associated with inclusion and create programs that act as a positive differentiator. The goal is to help our clients thrive in this space and empower them to be global problem solvers, champions of change, and transformational leaders of social change.
Joy Tan, SVP Public Affairs, Huawei
Joy leads a diverse team of communications and media affairs professionals to convey Huawei's cutting-edge innovation and best practices as a global technology leader to U.S. audiences. Together with her team, she is committed to telling the unique story and rapid growth of Huawei, which has grown into a $122 billion multinational company, whose products and services are used across 170 countries from its inception over 30 years ago.
The inaugural summit reached 50,000+ live views 300,000+ post-live views with a global media outreach in social media and PR of over 10 million people!
The April 2021 summit and awards are expected to far exceed this with the addition of more key speakers and participants.
The event will be streamed in the fast-growing Dinis Guarda Youtube Podcast series:
https://www.youtube.com/c/DinisGuarda/videos 
Tickets:
https://www.eventbrite.co.uk/e/openbusinesscouncil-summit-and-awards-tickets-136828817677
For more information:
https://openbusinesscouncil.org/summit/
Summit & Awards video: