Earnings season is back, so it is just about time to review one of trader's favourite buy setups in play during earnings season, the breakaway gap up. Breakaway gap ups are extremely powerful and can often lead to significant gains in a short period of time.
The term is a bit confused and complex for those who aren't used to advanced trading practices, but, simply put, "a breakaway gap is the first phase of a security price's reversal. It can signify a price trend higher or lower. Throughout a trend reversal, investors can expect to see a breakaway gap followed by several runaway gaps and an exhaustion gap in the final phase," as Investopedia puts it.
It, then, occurs when a stock gaps open above the highs of a trading range. The trading range should be at least five weeks in length but the 3-9 months is the average. The gap up should be to a new 52-week high, or even better a new all-time high.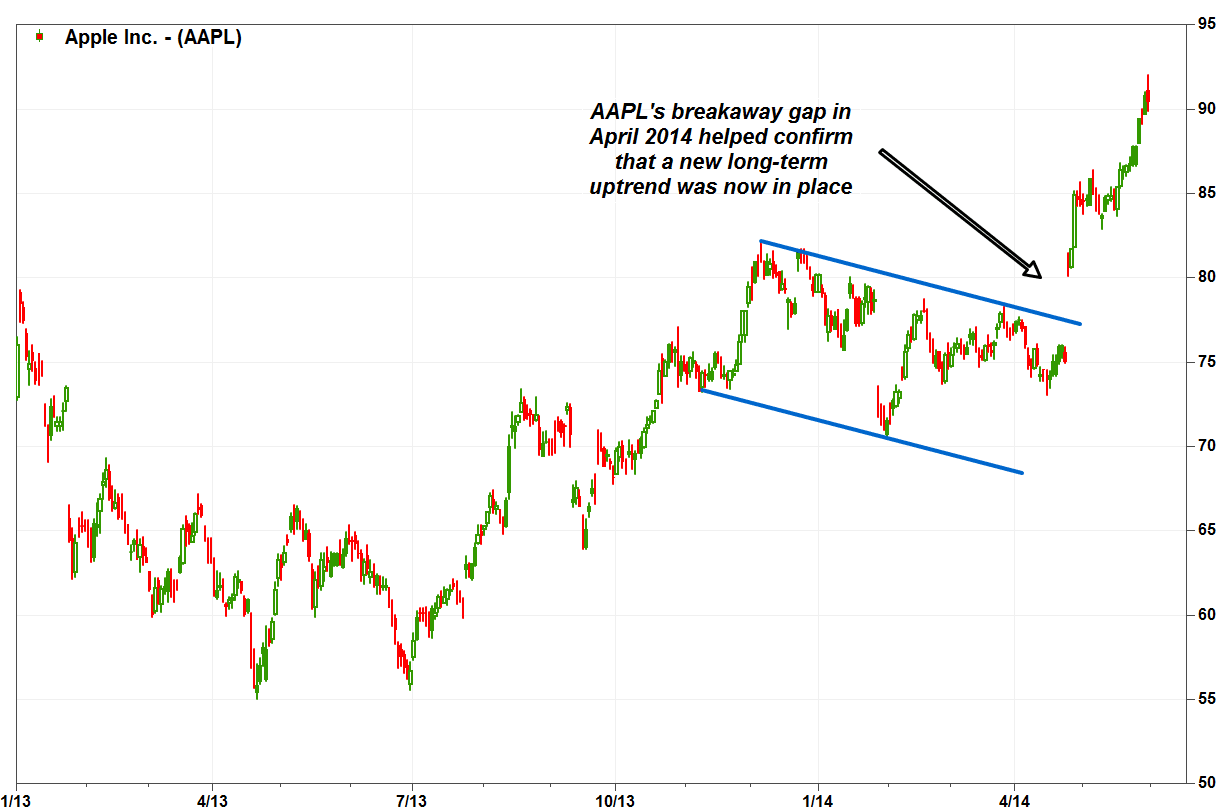 To be able to identify a breakaway gap, a thorough technical analysis of the market must be carried out. In these terms, volume is extremely important when deciding to buy a gap up. The best breakaway gap ups will often close up 10% or more on volume that is 5 times greater than average. Many gap ups will close with volume that is 8-13 times greater than average.
Once it has been identified, it is time to engage it. Here, experts differ about how to face it: whether aggressive, low-profile based or, on the contrary, passively. According to trading site Morpheus Trading: "The way we like to play a breakaway gap up is pretty aggressive, as we want to enter within the first few minutes of trading on the open. A breakout above the 1-minute or 5-minute highs work best. The idea here is to wait and see if there is strength on the open and then buy."
Here is a quick example of how to trade in a breakaway gap. Since the entry is within a few minutes of the open, there is no way of knowing if volume will close 5-10x higher than average. However, if volume is obviously very strong during the first 15-minutes of trading (or strong pre-market), then we will take the trade. If volume is 40% of the day's average during the first 30-minutes of trading that is a good sign. If volume is 100% of the day's average during the first hour that is a great sign.
Once we have entered and traded at our desired volume, stop placement is pretty simple too. We place a stop 5% below the open. That's it. "Strong gap ups should not dip much below the open on the day of the gap up. However, some stocks that do not move higher immediately may undercut the low of the breakaway gap up day, so the 5% stop should give us a bit of wiggle room most of the time," agreed the aforementioned report, which also provides an extensive example of how to trade during earnings season.
Many traders shy away from buying gaps as the stock is already up 10-20% on the open, which can be intimidating. However, through the years we have seen many examples of where the gap is not filled and the stock goes on a multi-month rally. It is up to us, then, to step in and take advantage of everything a breakaway gap can offer.
Hernaldo Turrillo is a writer and author specialised in innovation, AI, DLT, SMEs, trading, investing and new trends in technology and business. He has been working for ztudium group since 2017. He is the editor of openbusinesscouncil.org, tradersdna.com, hedgethink.com, and writes regularly for intelligenthq.com, socialmediacouncil.eu. Hernaldo was born in Spain and finally settled in London, United Kingdom, after a few years of personal growth. Hernaldo finished his Journalism bachelor degree in the University of Seville, Spain, and began working as reporter in the newspaper, Europa Sur, writing about Politics and Society. He also worked as community manager and marketing advisor in Los Barrios, Spain. Innovation, technology, politics and economy are his main interests, with special focus on new trends and ethical projects. He enjoys finding himself getting lost in words, explaining what he understands from the world and helping others. Besides a journalist he is also a thinker and proactive in digital transformation strategies. Knowledge and ideas have no limits.