"To grow and create a long-term sustainability for our clients in the largest financial market in the world by aiming to outperform most other asset classes, including major equity indices. We are committed to producing consistent high net returns within a risk-controlled environment by applying a range of rigorously tested trading strategies combined with our unique technology infrastructure."
Scandinavian Capital Markets SCM
#EURUSD: 0.8563/1.1993

Our 2015 forecast for EURUSD was spot as 2015 opened at 1.2104 with EURUSD moving lower in 2015 to 1.0461, just shy of our 1.0327 target. EURUSD broad outlook remains for further price decline as the fall from the 2014 high of 1.3992 remains active. Only a monthly open and higher close above 1.2227 will alter this view. For 2016, look for a monthly open and lower close below 1.0756 to confirm resumption of downside extension is once again underway initially targeting the 2015 low of 1.0461, 1.0327, 1.0166, 0.9838, 0.9688 and eventually 0.8563. As to the upside, a monthly open and higher close above 1.1430 will witness further corrective rise to 1.1712 followed by 1.1810 and 1.1993.
#GBPUSD: 1.3343/1.6551

For 2015, GBPUSD opened at 1.5646 and reached our 1.4812 target with a 2015 low of 1.4564. Our Long term trade opened Sept 2, 2014 at 1.6565 was closed on April 2 2015 at 1.4832 for 1,733 pip gain and a 22% gain on this single trade. For 2016, look for the multi month GBPUSD decline from the 2014 high of 1.7190 to remain active with a monthly open below 1.4812 and lower close confirming continued downside risk targeting 1.4251, 1.3904, 1.3623 and 1.3343 in the weeks ahead. Only a monthly open and higher close above 1.5877 will alter this view and confirm further upside risk to 1.6187 and 1.6551.
#USDSEK: 10.6064/7.6910 Neutral

For 2015, USDSEK opened at 7.7906 and reached our 8.5337 target with a 2015 high of 8.8827. For 2016, risk remains to the upside as a monthly open and higher close above 8.5364 confirms further price rise is once again underway targeting 8.6812, 8.8827, 9.0642, 9.2088, 9.327 and potential for 10.6067. As to the downside, ONLY a monthly open and lower close below 7.691 will alter this view and turn the outlook to neutral.
#XAUUSD: Spot Gold 1,302.85/828.37
For 2015, our forecast was for spot gold to trade within a $889-1526 range with the 2015 actual range ending up at 1,046-1,307.
For 2015, our forecast was for spot gold to trade within a $889-1526 range with the 2015 actual range ending up at 1,046-1,307, well within our 2015 forecast. For 2016, spot gold has continued downside risk to 975 as a monthly open and lower close below $975 will see further price decline to $828. Spot gold will range between $828-1,300 in 2016 with buying at 828 as the preferred long term trade. Any sustained break outside this range will witness further price extension in the direction of the break.
#WTI Crude Oil: $24.20/$50.20

For 2015, crude oil opened at 54.84 as our forecast was for crude prices to drop further to 33.18. For 2015 the low was 34.51, just shy of our 33.18 target. For 2016 risk remains for further decline to 29 with long term prices holding within the 24-50.50 range.
#SP 500: 1,575/1,800 Price Consolidation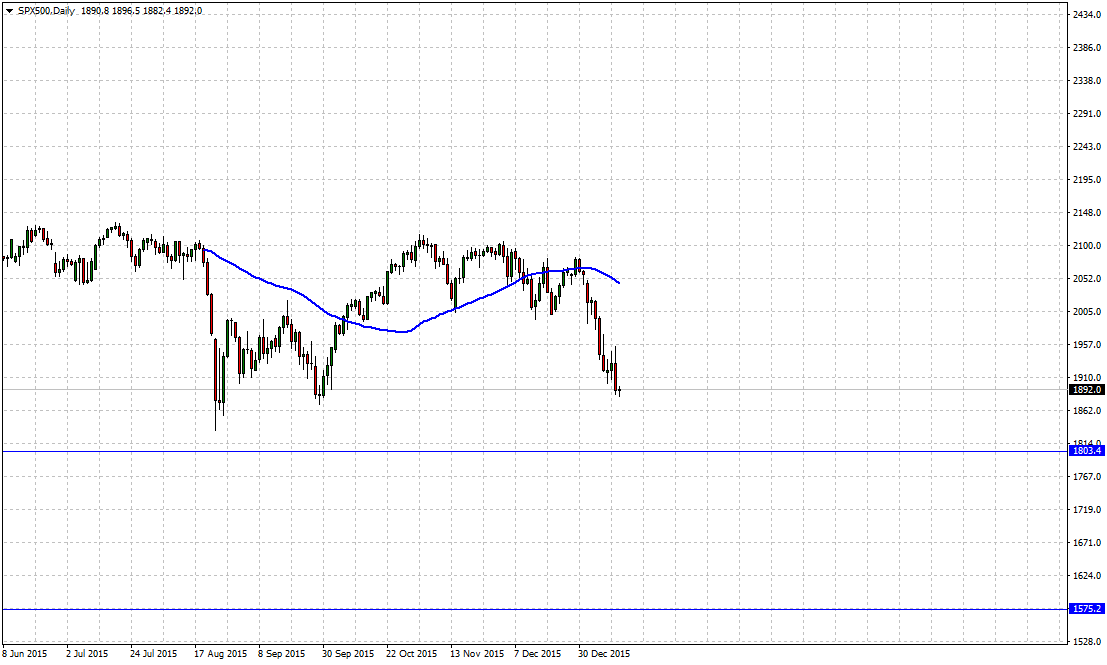 For 2015 our forecast was for S&P to move higher targeting 2,138 which was the 161.8% extension of the 1576-666 decline with the actual 2015 high coming in at 2,136, spot on our forecast. However, as prices began to modestly rise in 2015, a negative technical divergence suggest a downside correction towards 1,1575 is probable. For 2016, look for continued price consolidation above 1,800 with a monthly open and lower close below 1,789 confirming further price decline to 1,575 followed by 1,401.
Located in the heart of Stockholm, SCM provides its investment clients with intelligent and innovative strategies to preserve and grow their wealth with a world class team of management and analysis professionals with a highly proven track record.
Scandinavian Capital Markets: Global Economic Forecast 2016 – All Rights Reserved
José Ricaurte Jaén is a professional trader and Guest Editor / community manager for tradersdna and its forum. With a Project Management Certification from FSU – Panama, José develops regularly in-house automated strategies for active traders and "know how" practices to maximize algo-trading opportunities. José's background experience is in trading and investing, international management, marketing / communications, web, publishing and content working in initiatives with financial companies and non-profit organizations.
He has been working as senior Sales Trader of Guardian Trust FX, where he creates and manages multiple trading strategies for private and institutional investors. He worked also with FXStreet, FXDD Malta, ILQ, Saxo Bank, Markets.com and AVA FX as money manager and introducing broker.
Recently José Ricaurte has been creating, and co-managing a new trading academy in #LATAM.
During 2008 and 2012, he managed web / online marketing global plan of action for broker dealers in Panama. He created unique content and trading ideas for regional newspaper like Capital Financiero (Panamá), La República (Costa Rica), Sala de Inversión América (Latinoamérica) and co-developed financial TV segments with Capital TV.
He is a guest lecturer at Universidad Latina and Universidad Interamericana de Panamá an active speaker in conferences and other educational events and workshops in the region. José Ricaurte worked and collaborated with people such as Dustin Pass, Tom Flora, Orion Trust Services (Belize) and Principia Financial Group.